I had seen the "Google Image Meme" someplace, then promptly forgot about it. But then whilst catching up on my blog-reading this weekend, I ran across it again at Chronic Listaholic, and decided to give it a go. It was supposed to be for Sunday, but I ended up having something to write about, and put it off until now.
How it works is this... you are given ten questions, and then have to enter your answer into Google Images to see what comes up for each one. You can either take the first hit, pick a favorite, or however you want to do it so that your answer ends up being a picture...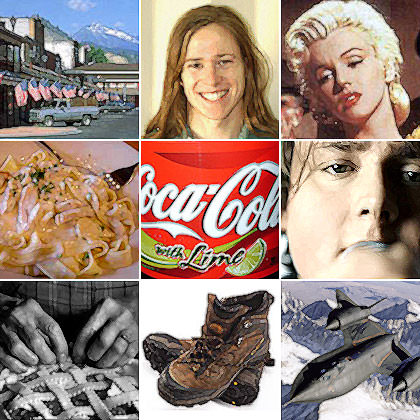 The place you grew up. Cashmere, Washington. I selected a photo of downtown that had a pickup truck and a bunch of flags in the shot, because that pretty much sums it up.
The place you live now. Same place, so I used the same photo.
Your name. Despite having a pretty good Google Index, my full name does not result in any photos of me popping up (I suppose I should be relieved?). When I simply enter "Dave" I still don't show but, oddly enough, my friend Dave does show up, so he gets his picture here.
Your grandmother's name. Despite the fact that my grandmother's name is not "Marilyn Monroe," that's the photo that comes up. Odd.
Your favorite food. This is such a toss-up, but I'd have to say the top-three are "Pasta Salvi" (from Salvi's Bistro in Columbus, Ohio), The Da Vinci Pizza (from David's Pizza in Spokane, Washington), and the ORIGINAL Fettucini Alfredo (ONLY from Alfredo alla Scrofa in Rome, Italy).
Your favorite drink. It's usually Italian hot chocolate, but given that it's summer time, I chose my current obsession... Coke with Lime.
Your favorite song. Would be something by Depeche Mode. But since I didn't want to spend hours trying to narrow it down to a short list, I just picked my current fave song... Everything's Changing by Keane. This is a photo of the lead singer, I think.
Your favorite smell. Always grandma's apple pie.
Your favorite shoes. Despite being made in a sweat-shop somewhere, my Nike ACG Boots remain my favorite pair of shoes ever. Unfortunately, my favorite fave model has long-since been discontinued, so these are a different pair of Nike ACG boots.
Your favorite number. Four. Which is considered hugely bad luck throughout most of Asia. For reason's unknown, this really cool

stealth bomber

SR-71 Blackbird shot comes up when I type "4" into Google Images.
And there you have it... a cool meme to fill up space in your blog!