Waah! I'm tired and I don't wanna blog today! Keep that in mind as you try to make your way through my senseless ramblings in this entry, as there will be no proofreading.
Of course, that makes this no different than any other entry I've ever written, but still.
Work on "Dave's Bad-Ass Blogography Show" continues, but is not going as smoothly as I had hoped. Perhaps I am getting in way over my head with this "tooncasting" idea, but it sure is a lot of fun trying to figure out how I am actually going to pull it off.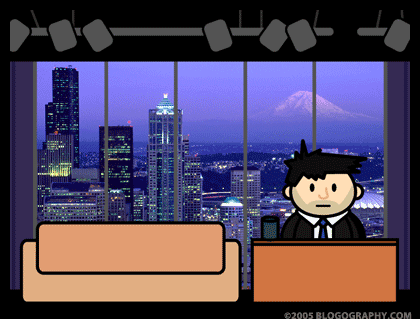 The latest hurdle is recording the audio. I needed some voice tracks in order to test out my lip-sync maps and see if they in any way resemble speech. I mean, it looks good in theory, but until I match it up with actual recorded words, there's just no telling.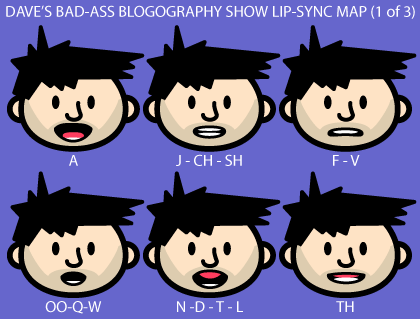 So last night I actually sat down and did a read-through of a page from the first show's script and recorded it. I was shocked at just how bad it turned out. In fact, "bad" fails to adequately describe what I was hearing. Granted, I probably sound more like Michael Jackson than James Earl Jones, but even Michael would be a hundred-fold improvement from what I got. I tried to push some warmth into the tinny, scratchy audio using Garage Band (and eventually Soundtrack as well), but it was so inherently flawed as to be useless.
There was no way I was going to spend weeks animating a show if it were going to sound this horrible. The pay-off would not be worth it. For a moment, it seemed as though "Dave's Bad-Ass Blogography Show" was dead before it even started.
So this morning I made a phone call to a friend who has done radio work, thinking he might have some idea as to what I could do in order to get a more presentable recording.
Dave: I'm trying to get a voice recording into my computer and...
Matt: HOLY SHIT! ARE YOU GOING TO DO A PODCAST?!??
Dave: Errr, no. I want to animate a cartoon and need to record the voices.
Matt: You should podcast! That would rule!
Dave: Probably not. I think a "tooncast" is about the best I can hope for. But when I record the voices, it sounds terrible.
Matt: Please don't tell me you are trying to record with that shitty microphone in your PowerBook.
Dave: No. I'm using the microphone in my iSight camera.
Matt: Yeah, that's almost as bad. You need a professional mic. A good one will cost you about $500.
Dave: WHAT?!??
Matt: Uh huh. You'll also need a pre-amp and a mixer. There's another $500.
Dave: WHAT?!??
Matt: Sure. And you'll want a compressor, but that's only a couple hundred bucks.
Dave: WHAT?!??
Matt: Hey, if you don't want to sound like shit, you have to have this stuff.
Dave: WHAT?!?? I'm making an online cartoon... not Citizen Kane!!
Matt: Yeah, I know. I'm just kidding. You could probably get away with about $200-$250 in equipment and sound like a pro.
Dave: WHAT?!??
... and so it goes. Regardless of how you slice it, I was going to have to shell out some cash if I had any hope of having decent audio. Since Matt seems intent on suggesting gear that costs thousands of dollars, I decided to do some internet research instead. After a bit of digging, I found out that pretty much everything he told me was true: the bottom line is that it's a $150 investment, minimum.
Twenty minutes spent shopping at "Musician's Friend" and I am suddenly missing $210 and am poor again... even though today was payday.
This sucks ass!
I was not counting on having to spend anything more than my time to get this new hobby going. But every time I turn around, money is involved. Perhaps I should hit up some tobacco companies for sponsorship. Since they can't advertise on television anymore, maybe pushing deadly products is a lucrative financing option for me.
Oh well, I won't worry about any of that now. I'm just going to get to work and see what happens. If all-else fails, I'm acquiring enough equipment that I could start filming low-budget porn. As an up-side, I'm relatively sure that the scripts are much easier to write for stuff like that.
Movie Quotable of the Day:
"My doctor says now I have enough silicone in my body to kill a small elephant... isn't that cool?"
Yesterday's Answer:
Anchorman: The Legend of Ron Burgundy
(2004) with Will Ferrell and Christina Applegate.