Ah, my last day in beautiful Utah started out in Zion to watch the sun rise over the park. After that, it was all about heading North so I could get back to Salt Lake City. But, along the way, I decided to get the most out of my $20 Zion Entrance Fee and take a look at the Northwestern corner called "Kolob Canyons." It's pretty sweet, but going in the morning was a big mistake, because you have to look directly into the sun to see all the coolest scenery. That means photos are pretty much out of the question, though I did snag one that wasn't all glare...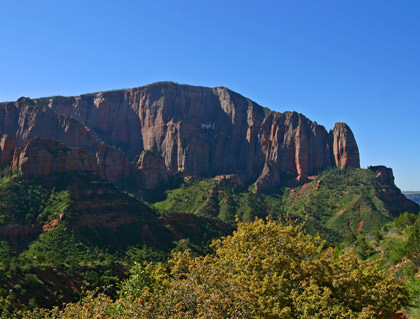 Once back in SLC, I decided to go watch Star Wars III: Revenge of the Sith in a decent theater. After reading all the rave reviews, I was really, really looking forward to it. Well, now that I've seen it, I have one thing to say...
George Lucas should never be allowed to write or direct ever again.
Ever.
George Lucas sucks so much ass as a filmmaker NOW that I find it impossible to believe that he was responsible for films like American Graffiti and the original Star Wars THEN. He is an embarrassment to himself and his profession. His once brilliant talent has been pissed away to depths impossible to fathom twenty years ago.
Revenge of the Sith was indeed better than the first two prequels... but that wasn't hard to do. Both Episodes I and II were tragically bad. Horrendously, praying-for-death bad. Lucas had nowhere to go BUT up. That he managed to do so just shows he at least has the smarts to hire some very talented people to save his hack ass. In the grand scheme of the Star Wars universe, I'd probably rate them like this...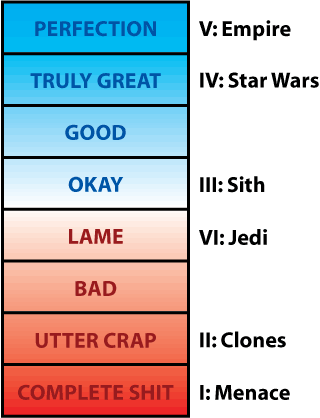 And before you decide to attack me because you think that Revenge of the Sith is the coolest movie you've ever seen... think about it for a second. What was so cool about it? The awesome space battles? The mind-blowing special effects? The stunning settings? The kick-ass light-saber fights? Yes, yes, yes, and yes. But Lucas didn't do any of that shit. Industrial Light and Magic created all of that. Let's take a look at what Lucas WAS responsible for... horrible, cheesy dialog that is so bad that I was visibly wincing as phrases like "it is your love that makes me beautiful" stank up the screen. He's also responsible for getting crap performances out of otherwise incredible actors. Does he even bother to actually DIRECT his characters? You can tell they're trying, but there's simply too many scenes where they wander through like zombies spouting all that f#@%ed-up dialogue.
But what I loathe most of all is that Lucas excels at drawing you into these fantastic worlds, only to sabotage himself with stupid, unforgivable shit. A fantastic scenes of Wookies on the rampage has me totally engrossed... until it's f#@%ed up by a Wookie doing the "Tarzan yell" as he swings through the jungle. WTF?!? Congratulations you dumbass, you've just shattered the illusion you worked so hard to create. But it's nothing new... Lucas is ALWAYS destroying scenes with childish bullshit like burps and farts. He defends himself by saying that these movies are written for kids... but kids from WHEN? The 1960's when this kind of idiotic, juvenile behavior was actually funny? Now it's not just lame, it's stupid.
Despite all of that, I must admit to having a good time at the movie. If you can ignore the dialogue and acting, it's a Sci-Fi lover's dream come true to finally see the birth of Darth Vader... those epic space battles... all those geeky touches (was that the Millenium Falcon?)... it's the first movie since Empire Strikes Back that actually feels like Star Wars again. I just can't help but wonder how amazing this film could have been had Lucas done the right thing and passed the dialogue writing and directing to more capable hands.
Movie Quotable of the Day:
"No... I am your father."
Yesterday's Answer:
Charlie's Angels
(2000) with Cameron Diaz, Lucy Liu, and Drew Barrymore.