Apparently, ever-escalating gas prices are not deterring people from traveling to our National Parks. It's not even Memorial Day yet, and Zion is filled with people. I cannot fathom what it will be like in another week. I suppose I should just count my blessings and be happy I am here in the first place. After all, many people will never get to see stuff like this.
But where there are people, there are dumbasses. And where there are a LOT of people, you are guaranteed a LOT of dumbasses.
And I'm not just talking about the obvious morons... the ones who stop right in the middle of the trail rather than stepping to the side so as not to block traffic... the ones who continuously state the obvious (like "wow, that's a big rock!" and "look, it's a tree!")... and all the rest... no, I am talking about the "truly gifted dumbasses" who make you long for the day it becomes legal to shoot people for being stupid.
For example, I am walking along, actually bothering to look around me (unlike most people who practically run to the intended destination), when I spot a deer just a few feet away from me. I take a minute to compose my shot and look for the best angle...
And then took a couple of quick shots just for fun...
Then I notice an elderly couple with their cameras ready, so I quietly step out and whisper "let me get out of your way" as the old guy says "that's okay, I don't think he's going anywhere" with a chuckle. And then, rounding the corner comes the queen of dumbasses...
Loud-mouthed bitch: WHAT'S THIS? WHAT ARE YOU LOOKING AT? OH IT'S A DEE-AH!
She sounds like a cross between Gladys Cravits on Bewitched and Estelle Costanza on Seinfeld and every bit as annoying...
Loud-mouthed bitch: EVERYBODY HURRY UP OR YOU'RE GOING TO MISS THE DEE-AH!! HURRY EVERYBODY... IT'S A DEE-AH RIGHT HERE!!! GET YOUR CAMERA!
Well, needless to say, the deer immediately bolted and the guy who was patiently waiting never got his shot. When the stupid bitch's friends caught up, she had to tell them that the deer ran away, to which I added "yeah, because you started screaming and scared it away." She then had to tell me I was a "rude boy" which was so funny in its irony that I just laughed in her face.
Not ten minutes later, I saw a squirrel and was going to attempt to sneak a shot of the little speed demon. But then a pair of dumbasses came along with their walking sticks that apparently double as noise-makers echoing through the canyon... TAP TAP TAP! TAPPITY TAP TAP TAP! TAPITTY TAPITTY TAP!! What a couple of f#@%ers! "THANKS A LOT" I say. "Duuuuhhh... whut!" they respond. Of course, they don't even realize they are total dumbasses. They never do. This is the best I could get as the squirrel ran away...
And, speaking of squirrels, these signs are posted all over the park, and I couldn't help but wonder about it from the squirrel's perspective...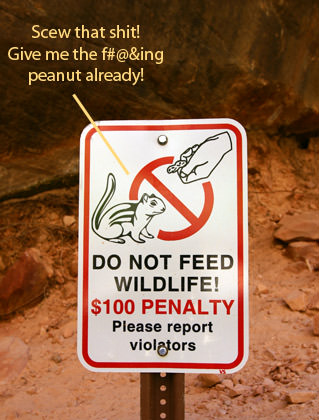 Movie Quotable of the Day:
"I signed that release waiver... so you can just feel free to stick things in my slot!"
Yesterday's Answer:
Kill Bill: Volume 2
(2004) with Uma Thurman and David Carradine.