Zion National Park is pretty nifty... if you are not afraid of heights. But, for those of us who DO have problems with heights, it's not the best place to be (Bryce is even more spectacular, has easier access to the sights, and doesn't involve clinging to the side of a mountain to see them). With that in mind, I had a nice day at the park, but really didn't get to see it the way it was meant to be seen.
The conversations pretty much go like this...
Guy: Oh dude! Zion rocks! You've GOT to do the "Angel's Landing" hike... it will blow your mind!
Me: Cool! Thanks, I'll definitely look into that.
Guy: Just be sure you've got a good pair of boots. Oh... you're not afraid of heights are you?
Me: Yes. Terrified of heights.
Guy: Ah. Well there's a walk along the river that's kind of nice...
And so it goes. Everything that looks really cool on the Zion trail map has a little icon next to it of a man slipping on the edge of a cliff and the words "WARNING: STEEP CLIFFS" emblazoned on it. Uhhh... no thank you. If I were to even attempt something like that, I would start sobbing like a baby and need to be sedated and physically removed from the mountain.
Oh well. There are still some pretty sights to be seen. Ansel Adams I am not, but I gave it my best shot...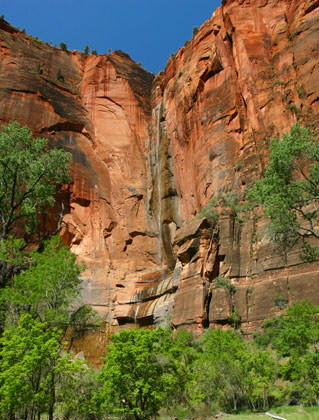 Wait a second... actually, that's not too bad! Ansel Adams must just fool people into thinking he's an artistic genius because he used black & white photography. Well I can do that...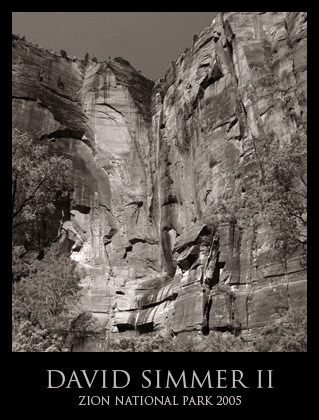 Yeah, right. Okay, Ansel Adams actually was a genius. Probably best not to attempt a comparison like that again.
Still no sign of Neo and Morpheus.