Since I've been back, every day is busier than the day before. I suppose that this means tomorrow will be the worst day ever. I'd stay home and hide in bed, but then I'd just get further behind in my work. It's at a time like this that I have to ask myself "what would Britney Spears do?" In channeling my inner white-trash self, I've come to the conclusion that I should wake up extra early so that I can have a half-rack of beer before heading out. The only question being whether I shower before or after I crack open that first can?
The answer of course is "both" AND "during."
Naturally, the more work I have, the less time I have to goof around animating Dave's Bad-Ass Blogography Show. But I did manage to upgrade my copy of the most excellent "Toon Boom Studio" (the cartoon-making software I use) and also work out the second segment of the show. Since Elizabeth Hurley and Dubbya are guests, I'm faced with having to draw caricatures. Not something I'm especially good at...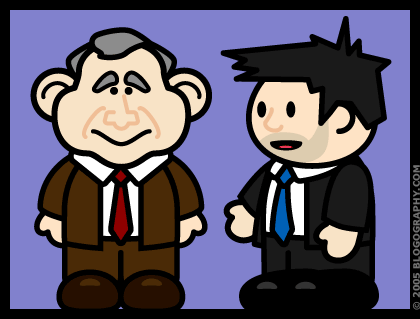 Drawing President Bush was easier than I thought though. You just take one of those freaky Troll Dolls and add beady little eyes. I'm not sure whether people will recognize him as Dubbya, but I wanted him more "cute" than "scary" so I guess it will have to do.
Movie Quotable of the Day:
"Another little white girl done fell down a well. Fifty black people get their ass beaten by police today... but the whole world gotta stop for one little whitey stuck down a hole!"
Day-Before-Yesterday's Answer:
Romy & Michele's High School Reunion
(1997) with Lisa Kudrow and Mira Sorvino.