I won't even pretend to be surprised that somebody decided to take me to task for my overview of the sublime artistic vision that is Sin City. About the only surprise to be had is that there haven't been more such emails. Any time you remotely touch upon religion, it's almost a guarantee.
The short version of the letter is this: apparently everybody is entitled to their opinion, unless you are just positive that you are right and God is on your side... then, of course, everybody else is wrong and shouldn't have an opinion in the first place.
The long version is a little more complicated than that. I won't go into all the boring details, but suffice to say that movies like Sin City are destroying the moral principals God has handed down, and I shouldn't be attacking the MovieGuide.org ministry for doing God's work. Since sending a reply is undoubtedly useless, I'll just reply to her comments here for my own amusement.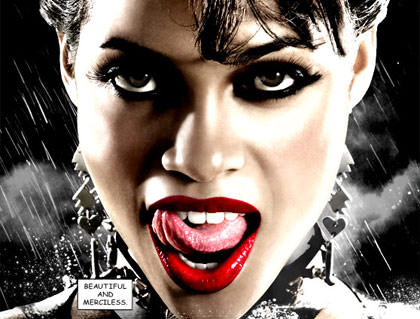 I suppose the first thing I should do is provide a disclaimer that I am not a theologian. I have studied numerous religious philosophies over the years (including Buddhist, Christian, Judaic, Islamic, Mormon, Hindu, and Shinto faiths), but am not a practitioner of any of them. As a matter of full disclosure, I should also mention that I find Buddhism closest to my religious "ideal" and endeavor to apply Buddhist teachings to my daily life (but do not consider myself a "true" Buddhist). All of my religion studies were undertaken because of my love of different peoples and cultures in the world, and an effort to understand my fellow humans a little better.
Given all of that, I can say that I understand the world's major religious philosophies quite well. What I will never understand is how people practice the religions they profess to subscribe to. I do not, for example, understand how so-called Christians feel justified in bombing an abortion clinic and killing a doctor who performs abortions when killing is a mortal sin according to The Bible, and judgment is for God alone to pass. I do not, as another example, understand so-called Muslims who would blow up a building with women and children inside when the Prophet Mohammed forbids such actions. I do not, as yet another example, understand so-called Buddhists who own a gun and eat meat when Buddhist precepts discourage such things.
Ultimately, I have decided that people do not live according to any religious doctrine, but instead live according to their INTERPRETATION of said religious doctrine.
So, as a matter of respect, I fully appreciate people's religious beliefs and their opinions and interpretations of the laws that their religion demands of them. But, on the other hand, this is America. The same freedoms that allow you to practice your religion also give me the freedom to watch a movie you consider to be abhorrent (like Sin City). So if you honestly believe that I don't have the right to enjoy a movie your religious interpretation says is wrong, then go f#@% yourself.
Now, addressing the matter of me "attacking" the MovieGuide.org "ministry" (or whatever), this is complete nonsense. I only wanted to notify them of an error in their review. For Christians who find it pleasing to know about offense content and a film's adhesion to a "Christian World View" before going to a movie, then I'm happy that MovieGuide.org exists to spell it out for you. That way, I don't have to listen to you bitch and complain while I'm trying to watch the film. I have no problem with the people over at MovieGuide.org (tightasses though they may be), and wish them the best of luck in stemming the tide of Godlessness in America... unless it results in the removal of movies I want to watch, in which case they can go f#@% themselves too.
My respect only goes so far as to extend to those who would respect my beliefs in kind.
Movie Quotable of the Day:
"When two hunters go after the same prey, they usually end up shooting each other in the back... and we don't want to shoot each other in the back."
Yesterday's Answer:
City Slickers
(1991) with Billy Crystal and Jack Palance.