Well, it's finally here... MacOS X 10.4, also known by the code-name "Tiger." Though I've only been using it for a day, I have to say that I am very, very impressed. Installation was a snap, and I've run into no major problems so far. It's as if MacOS X has finally left beta and is now starting to mature as an actual OS rather than just a pretty experiment.
Understandably, my ramblings about Tiger are probably of little interest to many of you, so I've tucked it away in an extended entry after today's movie quote.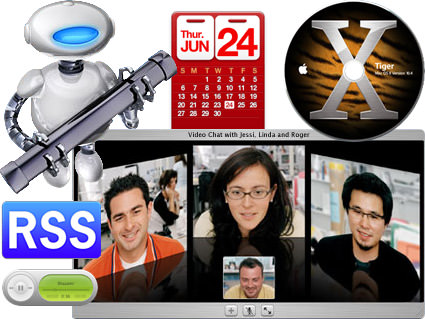 Movie Quotable of the Day:
"My ass may be dumb, but I ain't no dumbass."
Yesterday's Answer:
Night of the Comet
(1984) with Sharon Farrell and Robert Beltran.
And now back to Tiger...
Installation: As with all previous version of the MacOS, Tiger installation is nothing more than shoving in the DVD and clicking on an install button. Something new this time around is that the Tiger installer does a self-check of the install DVD, which adds agonizing time to the installation process (15 minutes on my old, slow DVD-ROM drive). This is annoying, but I'd imagine that it would be better than getting half-way through the install only to have it fail because of flawed media. As always, you can do a clean install (wipe everything), archive and install (save OS settings, then wipe), or an upgrade (nothing touched). I ran just the upgrade, which worked flawlessly... but will probably do a clean install and start from scratch once Adobe's Creative Suite v2 gets here (not that I have to, but it's probably good to get rid of all the junk that's piled up over the years). Still no "Activation Key" bullshit like in Windows (praise be to Jobs), so you can literally walk away and come back a while later and it's all over. DAVE RATING: A
The Finder File System: Back in the old OS-9 days, Mac users could laugh at Windows users because the Mac's file system automatically updated in the background, unlike Windows, which required a lot of hits on the "refresh" button to make sure that the files you were looking at actually reflected what was there. Well, once OS X was released, Windows users had the last laugh because file system updates were far, far worse than Windows ever was. I can't tell you how many times I've double-clicked on an inactive Finder window to run a program or open a document, only to have a completely different program or document open. All because the Finder would register the click, but then refresh the window and activate whatever ended up being there after the refresh (rather than before, when it should have). This has FINALLY been fixed, and all Finder windows now refresh in the background like they should have been doing all along. This alone is worth the $129 upgrade to me. I am one happy Mac user right now. DAVE RATING: A
Mail: The biggest disappointment in Tiger, Apple's email application "Mail" has always been a bit of a bugger for me to figure out. Sure it's nice and all, but you can't configure it very well, and it lacks numerous features that makes Windows' "Outlook" program so superior in every way. Not much has changed this time around. You STILL cannot customize the reply text, so every single Apple Mail email reply begins with the stupid-ass quote "On Apr 29, 2005, at 12:45 PM, Buzz Lightyear wrote:" which drives me insane. On top of all that, Apple changed the look of Mail so it's butt-ugly, confusing, and a horrible user experience. The little buttons at the top are so similar as to be useless. They moved the mailbox column from the right to the left, and I can't find a way to move it back (I loathe that I have to look across a confusing mash of mailbox text to see my emails... very poor). Overall, Mail is nice for casual users... but it's an abomination to power users. Maybe one day Apple will actually understand how important email is to people and build an email tool that isn't so lame. Instead, what do we get? The ability to look at attached images in a slideshow... who cares? DAVE RATING: C+
Address Book: Still a piece of shit. Windows' Outlook users can laugh their asses off at just how pathetic an address book Mac users are shafted with. You just know it's sad when you can't even print out a f#@%ing entry without jumping through hoops. And once you DO click through all the fields you want to print, Address Book FORGETS your preferences, and you have to click a bunch of boxes AGAIN the next time. Complete and total shit. Whoever is in charge of this app at Apple should be shot. DAVE RATING: F-
Safari: This version of the Mac's web browser is just as sweet as it ever was, but faster. I have run into a few rendering glitches, but I'm sure these will be quickly ironed out (there is a "report bugs to Apple" option right in the File menu). The big addition this time around is for RSS support, which is nice, but will not take the place of a dedicated RSS reader like my beloved "NetNewswire." Inline PDF viewing has been enhanced, and there's now a "private browsing" mode that does not record a history or save any data (finally, a way to look at porn without worrying about somebody using my computer and finding out!). DAVE RATING: B
Dashboard: In a nut-shell, Dashboard is a feature that allows you to quickly access "widgets" of all kinds... calculators, calendars, weather forecasts, stock quotes, language translation, and much more. It's all very cute, but not nearly as powerful as Konfabulator which inspired it. For example, with Konfabulator, I have six weather forecast widgets embedded on my desktop where I can see them all the time. To see the same widgets in Dashboard, I am forced to "open" the program first. Once you get past its limitations, Dashboard is still pretty nifty... just not as nifty as it could be. DAVE RATING: C+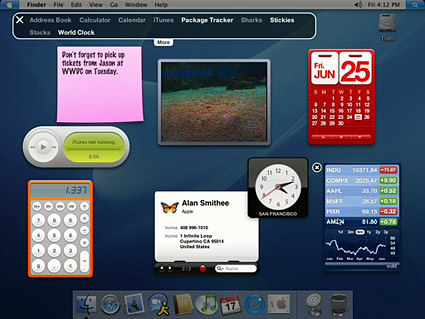 Spotlight: After you've installed Tiger, a new search service called "Spotlight" starts slowly indexing all the information on your hard drive(s). Once it has completed the index, you can then use it to locate anything, anywhere... blisteringly fast (in test searches, I found stuff I didn't even know I had!). Spotlight finds it all... addresses, emails, calendar events, images, documents, files, and much more... INSTANTLY. And it doesn't matter if the information is in the filename or not, because Spotlight looks inside documents as well. A kick-ass feature so good that you will wonder how you ever lived without it (anything less seems positively archaic). DAVE RATING: A+
iChat AV: Apple's "iChat" has always been a great chat client... but now it's positively brilliant. You can have a 4-way video conference with three other people at the same time! The most I've had was a 3-way with Meagan and Toni this afternoon, because they're the only people I know who have an iSight camera and Tiger installed. So very cool. DAVE RATING: A
.Mac Sync: Formerly known as "iSync," this wholly remarkable tool just got better. What it basically does is allow anybody with a $99-a-year ".Mac" account to sync their data between multiple computers, and then access the information via any web browser on the planet. Will also sync with an iPod and some mobile phones (not mine, of course). Since I have four computers, .Mac Sync is essential. No more having web browser bookmarks, email accounts, address books, and such be different on every computer... just sync them all to .Mac and the information is automatically updated on all machines any time a change is made. Beautiful. I can't wait to see what 3rd party developers do with sync services! DAVE RATING: A
Quicktime 7: The only thing I notice is that Apple is still making you pay for a "Quicktime Pro" license to access all the features available. Lame! Oh well, it still gives you stunning video playback that kicks ass over the horrid "Windows Media" and "Real Video" formats. That alone makes it worth an "A" rating. DAVE RATING: A
Automator: The Mac has always had amazing automation and scripting abilities under the umbrella of "AppleScript." The problem is that it is somewhat difficult for people to program, thus most people don't use it. That's all changed now. Apple's new "Automator" will let you build scripts visually, and easy as pie. The fact that you can attach the result to a "smart folder" for automated automation is just icing on the cake. Most any repetitive task you find yourself performing constantly is a great candidate for Automator. I have a folder that automatically sorts any files I put into it, then transfers them to the appropriate place based on the name of the file (even connecting to a server if it has to). It took 2 minutes to build, and will save me hours over the course of a year. Powerful to even novice users. DAVE RATING: A
And so there's a quick rundown of the major features of the latest and greatest in MacOS X v10.4, many of which are worth the upgrade cost alone. But here's what I didn't tell you... everything seems FASTER than before. The interface just "feels" snappier and more responsive. I can only guess that, with each new release, Apple keeps optimizing the code so that even older computers can benefit from the upgrade. Very sweet. Tiger may not be perfect in spots, but it comes darn close... it's certainly better than anything to ever come out of Microsoft (well, except MS Outlook, which nobody else seems to get right, including Apple). If you're a MacOS X user... upgrade! It's worth it! If you're not a Mac user, stop by an Apple Store and see what you're missing.