Well, well, well... I just finished watching Lost and must say that it was gut-wrenchingly good. And this is despite the fact that the writers took the easy way out... the pussies (and I take absolutely no satisfaction that my guess as to who dies was correct). And now we wait for May sweeps to find out what's going to happen next.
A pity that Alias is still sucking. What the heck is going on there? I know it's been renewed for another season but, at this point, does anybody even care? The show that was constantly reinventing itself to stay fresh has become sadly stagnate. Why can't they go back to the Rambaldi prophecies and the secret organizations and stuff? Sure it's fun to watch Syndney beat the crap out of bad guys, but is that all we're going to get from now on? It's pretty sad when the best thing about tonight's episode was the commercial with Miss Piggy dressed up as Sydney advertising Muppet Wizard of Oz.
Or maybe I'm just pissed off that GameStop didn't get my Lego Star Wars Xbox Game in like they promised. The bastards.
And now for something completely different...
Your name is Robert Rodriguez. You've just completed filming Sin City, one of the more violent, adult movies ever committed to film. What do you do for your next project? Hmmm? What do you do?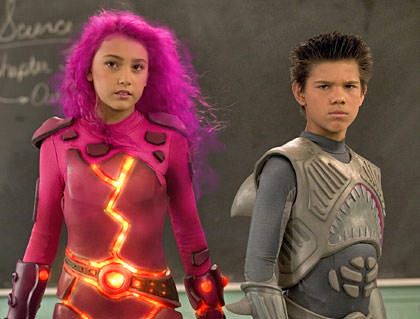 Well, apparently, you start working on a flick called SHARK BOY AND LAVA GIRL!! I think I speak for everybody when I say WTF?
Oh well. I suppose he has to have something to occupy his time until he and Frank Miller start in on the Sin City sequel.
Movie Quotable of the Day:
"This is no time to screw the pooch, because this is supposed to be the big dance number... all right?"
Yesterday's Answer:
Star Wars: The Empire Strikes Back
(1980) with Harrison Ford and Mark Hamill.