I am not a big fan of Doctor Who and have never really understood the cult-like following that the tacky British sci-fi show has. But my best friend was a Who fanatic, and a little bit of his fondness for the time-traveling alien kind of rubbed off on me over the years. While I could never seem to muster the appreciation for the series that others had, I did come to enjoy it quite a lot as a nifty television diversion.
So when the BBC finally decided to revive the character after over 15 years, there were a lot of people wondering just what kind of show would be produced. Historically, Doctor Who has always featured brilliant writing married to cheesy, cheap-ass special effects. But now-a-days where special effects are relatively cheap to produce, but good television writing is exceedingly rare, the fear is that the things that made the show so beloved would be abandoned to try and reel in a new generation of sci-fi fans.
In the end, I can't say one way or another which route was taken based on this one episode, but it seems as though they tried their very best to hit somewhere in the middle. The writing is clever yet a bit kitschy (for nostalgia's sake), whereas the special effects are both old-school bad (plastic mannequin zombies?) and new-school enhanced (CGI touches and pyrotechnics are liberally used). It's definitely a Doctor Who show, but kind of stands on its own as well.
My verdict? I kind of liked it. The chills that ran up my spine from hearing the Doctor Who theme music kind of set me in the mood for being open-minded, and the rest was a fairly decent hour of sci-fi television...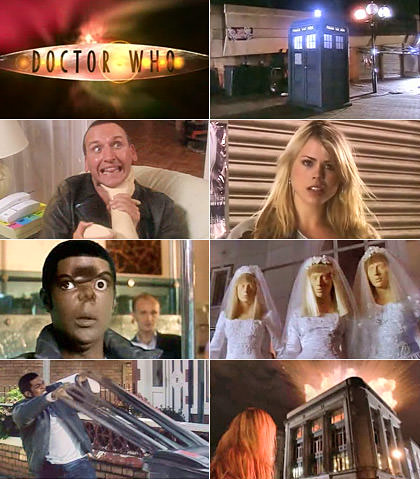 The new Doctor (played by Christopher Eccleston) is sufficiently charming, yet nerdy and superior. His new companion "Rose" (played by Billie Piper) is cute, yet not so hot that she doesn't seem like an "average, everyday person." Together they make a fairly good team and, given the show we're talking about, are perfectly acceptable in their roles. In all honesty, I think I like Eccleston's version of the Doctor better than the previous versions (save Tom Baker, of course).
But most people here in the States will never see the show because it was not picked up by The Sci-Fi Channel. And why did they decide to take a pass? Well, I think it comes down to two things... 1) The show has an incredibly "low-budget" look and feel that will compare badly indeed to Sci-Fi's other offerings like Battlestar Galactica, and Stargate (heck, it even looks bad compared to an episode of Red Dwarf!), and 2) It is very much British in both style and execution, which probably won't play well here. You could also argue that the show just isn't geared to a new viewer and would only appeal to Doctor Who fans, but I don't think that's true. In the end I can't really fault Sci-Fi for their decision, though I think it's a pity something couldn't have been worked out for some kind of late-night marathon or something. Oh well, perhaps BBC America will have a go.
About the only addressable criticism I have was that The Doctor didn't seem prominent enough in the show... we seemed to get more of Rose and her boyfriend than we ever did of Doctor Who himself. Perhaps this was an introductory ploy that will be rectified in future episodes, and so I'll have to see a few more shows before I can cement my opinion. Anyway, if you have a BitTorrent client, a fast internet connection, and are a fan of kitschy British sci-fi, then you might want to give this new version of an old classic a try.
Movie Quotable of the Day:
"I don't understand. All my life I've been waiting for someone and, when I find her, she's... she's a fish!"
Yesterday's Answer:
Private Benjamin
(1980) with Goldie Hawn and Eileen Brennan.