DANG YOU TO HECK KITTY SPANGLES!!! I scream at my computer monitor for the hundredth time. GIMME THE RED JACK... GIVE IT TO ME YOU BITCH!! I yell in a solitaire-playing frenzy. In case you haven't guessed, I am not in the best of moods today. It's probably stemming from the fact that I got -zero- sleep last night. You see, I live in a small orchard community. There are orchards within spitting distance of my apartment. Ordinarily this is no big deal (kind of country-charm nice, in fact) but when we have a late frost descend in the valley, every orchardist runs out and turns on these giant fans to keep the moisture from settling on their fruit (thus spoiling it). So all night long I'm listening to dozens of massive propellers going WHHHRR-RRRR-RRRR WUB-WUB-WUB! WHHHRR-RRRR-RRRR WUB-WUB-WUB! It's enough to drive you insane, and it certainly has me.
At day-break they the sun comes out and they can turn the propellers off, but then the devil-geese show up and start running around the parking lot honking like birds possessed and I decide to give it up and go to work (even though it's a holiday today). The reason I am at work on a paid holiday is so I can restore some very old files that were lost when our highly-paid computer consultants decided to move the file server to another building. Unfortunately the backups are on antiquated media like ZIP disks, JAZ cartridges, and Magneto-Optical discs, so I have no way of reading them until I drag a very old Mac up from the basement and hook it up. Despite being a million years old, it works flawlessly. I can't help but get a pang of nostalgia when MacOS 9 boots up on my tiny 640 by 480 monitor. Just for kicks I see if Blogography will render at all in such an old browser. Sure enough, with a little bit of scrolling, it's perfectly functional. It's nice to know that my decision to crop all photos to 420 by 319 to accommodate small screens has paid off...
So here I sit transferring gigabytes of files from an ancient computer while occupying my dead-time playing Kitty Spangles Solitaire on my laptop and cursing. A lot. For a solitaire game, Kitty is pretty dope. What I like most about it is that you get five minutes of free play time for each game (without having to purchase the program) so you can play a kind of "speed-solitaire" that adds another level of pressure. What I don't like is that Kitty and her cute little cartoon pals continue to look adorable even when things don't go your way...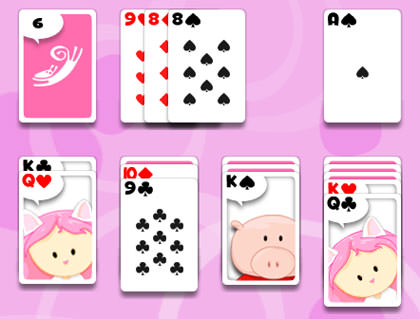 Another down-side to the game is taking crap from your friends when they call...
Reagent: Hey! What's up?
Me: Not much. Just restoring an old backup and playing a game of Kitty Spangles Solitaire.
Reagent: Kitty... Spangles... Solitaire... ?
Me: Yes, KITTY SPANGLES!!!
Reagent: That is so gay.
Me: Uhhh... you are still gay, aren't you?
Reagent: Yes. But Kitty Solitaire sounds gay, even for me.
Me: I'd think you'd be against sexual-orientation slander seeing that you're a big queer and all.
Reagent: You are avoiding the fact that Kitty Spangles Solitaire is gay...
It's so nice to have friends you can absolutely count on to pitch crap at you. I don't care if Kitty Spangles Solitaire is gay... it's so addictive that I'm seriously considering paying the $20 and registering it. If it were $10, I would absolutely register it, but $20 for solitaire seems steep when you only get Klondike. DANG YOU TO HECK KITTY SPANGLES!!!
Around the blogosphere today, I notice (via Kotke) that the brilliant Jeffrey Veen has written an excellent article about the Flash-based inactive-interactivity that seems to be plaguing the internet. He sums up exactly how I've been feeling for years now, and raises some excellent points. Well worth a read.
Speaking of Flash... I also note that famous personalities I loathe are one-by-one going through public scandals. First Michael Jackson and Martha Stewart, now annoying Extra! television host Pat O'Brien is up to his neck in it. He entered rehab a few days ago, and now the entire blogosphere knows why... he's a creepy cocaine-snorting alcoholic who likes leaving sexually-harassing messages on answering machines. That makes him not only annoying, but a freaky perv as well. Is it too much to hope that this means we've seen the last of him on television? If you really must listen to his disgustingly funny drunken messages, I recommend the cool Flash-based "Pat O'Brien Sexual Harassment Scorecard" - which is absolutely NOT safe for work (or anywhere else, really). Next up on my list: Judge Judy. Please let her get busted for crack possession and sex solicitation! Gross, I know... but Judge Judy as a crack whore would make my day (and sure explain a lot).
Well, back to work so I can get caught up and have the weekend off to go play in Seattle...
Movie Quotable of the Day:
"I tell you that tonight we shall have a wedding... or a hanging. Either way we ought to have a lot of fun, eh?"
Yesterday's Answer:
Fletch
(1985) with Chevy Chase and Joe Don Baker.