Between family, friends, and work... I have been to San Francisco many, many times. And because of that, I'm about all "touristed out" on all the sights and attractions here. This is actually a good thing, because it allows me to concentrate on what's really important: 1) Visiting the San Francisco Museum of Art so that I can see Diego Rivera's The Flower Carrier, which is one of my most favorite paintings of all time.... and 2) Going to Chinatown so I can get some freshly-made fortune cookies that are so good, they come very close to proving there is a higher power at work in the universe...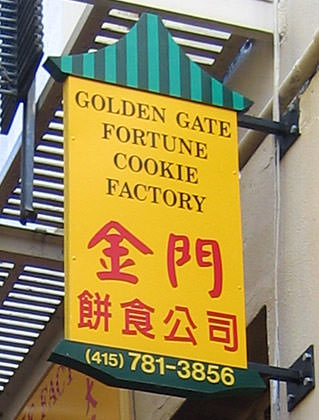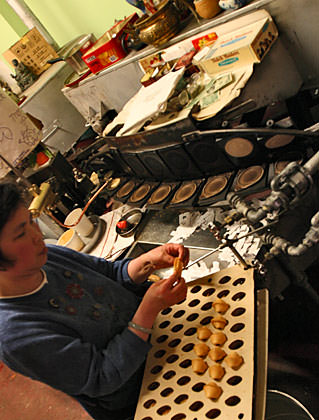 The "Golden Gate Fortune Cookies Factory" is tiny. Barely a closet off of Ross Alley, actually. There's room for only two automated cookie machines, which are run all day long, churning out hundreds (thousands?) of cookies. In the ten years I've been going there, I see the same two ladies every time. As if the fresh cookies are not enough, if you purchase a couple of bags worth (at $3 each), they'll toss some of the ruined (unfolded) cookies in your bag... STILL WARM! There is very little that can compare to a deliciously crispy fortune cookie when it's hot off the griddle.
The forecast said it was going to rain all day today, but the weather was absolutely brilliant. Beautiful blue skies and crisp air all around. I took advantage of the day to visit the new Apple Store, then head down to the wharf so I could see if there were any interesting new pins at the Hard Rock Cafe there...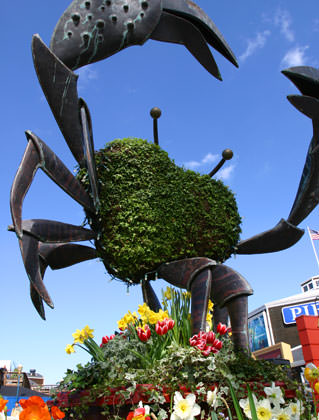 Yeah, that crab-thing at Pier 39 really freaks me out too. Anyway, it was about as perfect a day as you can get in the City By The Bay, which is very sweet indeed!