Confidentiality agreements preclude me from ever discussing my work here on this blog, but I can say that I took a nice detour to the largest candy and biscuit show in the world today ("biscuit" meaning "cookie" for the benefit of any Americans out there). This fascinating trade show which showcases sweets from around the world is the ultimate exercise in restraint, because every booth is passing out free samples of the delectable treats they make. And, since this was the last day of the show, most companies are desperately trying to get rid of everything so that they don't have to take it home with them. As I understand it, at 18:00 hours, the doors are open to the public, and scores of German sweet-tooths descend like locusts on to the showroom, devouring anything in their path. I would have really liked to have seen that.
Anyway, walking the show takes an entire day, because that's just how big it is. Even then, I was practically running from booth to booth so I would get to sample see everything. Here are my top-three favorites...
Yes, BLUE PEEPS were representin' in the house! There's something to be said for going on a pure-sugar high, and Blue Peeps are the best way to do so if you don't want to mess with any wacky flavors or other distracting ingredients that are not sugar. I also scored some Necco Wafers, Tootsie Rolls, Lemonheads, Hot Tamales, and a handful of other sugar-fied favorites that are guaranteed to keep me entertained for hours. I'm hoping my coma doesn't hit until I finish this entry.
I'm a sucker for any product that dares to put a screaming monkey on their package, and this banana candy that comes out of Brazil is a class act. All that's missing is a word balloon which says "BUY THIS CANDY OR DIE!" coming from the naughty monkey, and our slow descent into Planet of the Apes style madness can begin (so I've gone ahead and taken care of that for them). Sadly, they didn't have any bags I could take with me, but I did get a taste and it definitely kicks ass monkey-style. I'm hoping that some American importer picked it up so I can buy it at my local grocery store. This has "cult-favorite" written all over it, and I need me my monkey candy fix bad.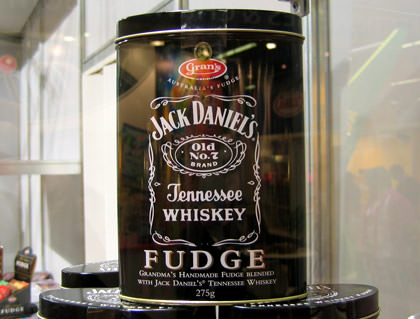 There were a number of products that had me saying "WTF mate?" (Swiss Army Chocolate?)... and Jack Daniel's Fudge was definitely on that list. But it's not the fact that it's an alcohol-based candy which has me confused (it's about time!)... it's because the stuff is made in Australia. Yes, for a weekend of fun, nothing beats tossing a shrimp on the barbie and then getting wasted on whiskey fudge while shooting kangaroos, koala bears, and other adorable creatures in the land down-under. I am so proud that in addition to Starbucks coffee and McDonald's hamburgers, America is now starting to export our entire redneck lifestyle to other countries. Go America!
Well, I'm off to pack my bags for a few days of vacation. Hopefully I will have internet access where I'm going so I can post the FridayQ this week.
Movie Quotable of the Day:
"My mommy always said there were no monsters... no real ones... but there are."
Yesterday's Answer:
Ever After
(1998) starring Angelica Houston and Drew Barrymore.