The most famous street in all of Spain is "Las Ramblas" in Barcelona. Here you can find shops of every kind, from famous designer brands to street vendors selling pets, flowers, food, toys, and everything else you can imagine. As the sun began to set, I spied a glow off to the side and realized it was an open-air produce market. The "St. Josep Mercat" to be exact. From the outside, it looks like it might be a single street which has been covered to protect the vendors from the elements (artfully framed with stained glass tiles)...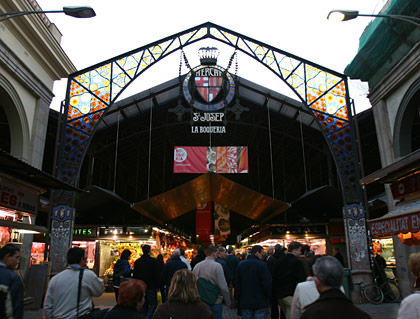 Inside, it is entirely another matter, as it ends up being a huge, sprawling market with row after row of the most beautiful produce you've ever seen. Massive strawberries so red they seem to glow. Beautiful peppers so fresh their smell fills the air. Everywhere you look there's mountains of perfect food, all painted with a bright rosy light for maximum appetite appeal. A photo can't really capture how overwhelming an experience this is for the senses, but I decided to try anyway...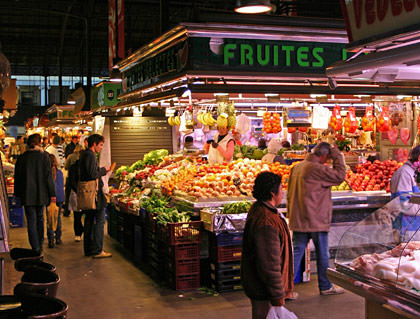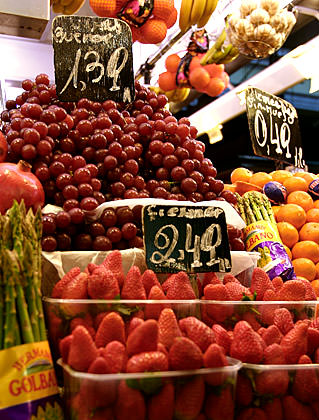 A few vendors were selling bowls of freshly cut fruits, so dessert was at hand! As I headed back to the hotel with my prize, I decided to take some side streets so I could get lost in the hundreds of back alleys and tiny walkways that create a vast maze in Old Town Barcelona...
As I sit here eating strawberries and typing away on my PowerBook, I am saddened that I've only got a day-and-a-half left in this amazing city. I can't wait until sunrise so I can begin exploring once again.
Movie Quotable of the Day:
"Look, I'm through arguing with you! I don't take checks... now slip me some cash and I'll slip you the wiener."
Yesterday's Answer:
Aliens
(1986) starring Sigourney Weaver and Michael Biehn.