And now I am back home. Unfortunately, it was not without incident. The latch on my PowerBook somehow broke when it was run through the security checkpoint in Minneapolis. I have no idea how much it's going to cost to fix but, since I've been wanting a new laptop, perhaps this is yet another sign.
And it only goes downhill from there. When I left a week ago, the mountain passes were bare. Last night a winter storm had hit as I was driving back, making a huge snowy mess that caused the usual 2 to 2-1/2 hour drive to take just under 4 hours. Since it had rained earlier in the day, the snow was falling on ice, meaning that the roads were extraordinarily slick... cars were flung off the road left and right, and cops were everywhere trying to help out. At least twice some dumbass would blow past me at reckless speeds, only to end up in an accident down the road. Idiots. I didn't even bother to stop, because 1) nothing looked serious... just morons stuck in a ditch, 2) it's their own stupid fault that they think 4-wheel drive makes them immune to icy roads, 3) I don't have a winch, so all I could do is laugh at them for being so stupidly careless, and 4) there were so many snowplows and cops out that they can deal with it, because that's what they are paid for.
I just don't get it. The roads are truly perilous. The snow is falling so hard that you can barely see two car-lengths ahead. You can't use high-beam lights to see where you're going because the falling snow just reflects them back in your face. And cars are being tossed all over the road, meaning you may have to stop at a moment's notice. WHY WOULD YOU WANT TO DRIVE AT RECKLESS SPEEDS?!? Seriously, I never drove over 35 miles per hour and barely made it home in one piece, especially considering my nerves were shot having to stare at this for four hours...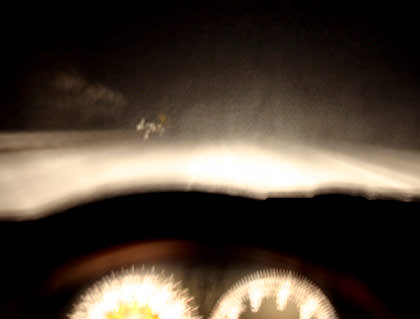 That's a car coming the opposite direction that's run off the road and appears to be hung up on a guard rail there on the left.
The night was finally made complete when I got home and noticed that the TSA had also busted the zipper pull on my suitcase. That's sucks ass because it's less than a year old! Sure I had a lock on it, but it was a TSA-approved lock!! Oh well, I guess if I can't repair it, I'll be buying a new suitcase in addition to a new PowerBook.
The one bright spot in the entire 19-hour ordeal of taxis, flights, layovers, and driving was a book I found at Amsterdam Schipol International Airport, called A Short History of Nearly Everything by Bill Bryson...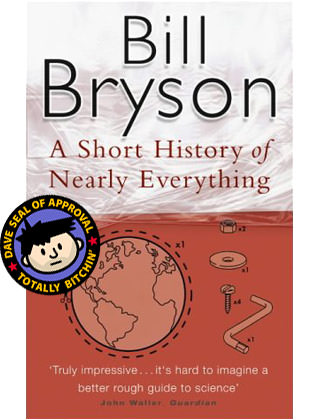 I've never heard of the author before, but apparently he is well-known in the U.K. (where he lives now, though he was born in the US). He has a witty and engaging way of writing about him that I haven't seen in a long time... almost Douglas Adams-esque in a way.
Anyway, this wholly remarkable book tells the history of the universe and the scientific discoveries that have led us to understanding everything from the Big Bang and the formation of the earth, all the way up to atoms, molecules, cells, and the evolution of life itself. All presented in a relatively approachable manner that makes it tangible and understandable. I think even Creationists can appreciate the book from a historical perspective, as the stories of how things were discovered (whether you believe in them or not) are almost as compelling as the discoveries themselves. Very sweet. Now I'm going to order up some of his other books at the library.