Coming back from a trip is always chaotic, even when it's just four days long. Add to that the fact that I leave again this weekend, and it's just that much worse. There's so much I want to do... so much that needs to be done... and just not enough hours in the day to make any measurable headway. The only reason I have time to even write this is because I've got a backup running on my work files for the next twenty minutes.
Oh well, here's my day so far...
Bush: The oddest voicemail was awaiting me at work. Somebody from Congressman Tom Reynolds' office called on behalf of the National Republican Congressional Committee and left me a vague message about my attending some kind of dinner with the president. Thinking it was a mistake, I called back to see if they had meant to leave the message for somebody else. As it turns out, they didn't. They specifically had my full name. Furthermore, the dinner wasn't with the president of the NRCC, it was with the President of The United States. I could not figure out why they had my name, considering I am... 1) Not a Republican, and 2) Not a resident of New York, which is where Tom Reynolds represents. Anyway, when I explain all that to the lady at the NRCC, she replied "you don't need to be a Republican to have dinner with the President." Which made me laugh out loud, because I'd probably end up being shot dead. Something tells me that my overwhelming urge to bitch-slap President Bush so hard that his lips are smacked off his face would not be looked kindly upon by the Secret Service. I vehemently disagree with the man on so many levels that I simply can't imagine being at some kind of dinner function with him (no matter how much of an honor something like that is supposed to be).
DSL: I am a long-time supporter of EarthLink Internet Services. For years I've been a happy subscriber because EarthLink is a big supporter of Apple Computer, and is always up-to-date on the latest Macintosh OS foibles. Then last year they lowered their monthly price from $49.99 to $39.99... for everybody except me, and I was (needlessly to say) very upset. I called three times to have them fix this error so I could save $120 annually on my internet bill. Each time they promised to do so if I would renew my contract for a year, which I was happy to do. But every time they didn't process the adjustment, and I ended up continuing to pay $49.99. Finally, Verizon offered me a $29.99 price I couldn't refuse (that's $240 a year in savings!) and I called this morning to dump EarthLink. When I explained the situation, the lady tried to convince me to stay and said she would honor the $39.99 price I was promised. I told her I'd agree if she's give me a credit for the $120 I've lost from their screw-ups, but apparently they didn't want my business that bad. Oh well. Hopefully I won't be without DSL at home for more than a day or two.
State: Ever since driving through Alabama, I can't help but think they got shafted. I'm sure there's a very good reason for it, but why is it that Florida stole most of Alabama's coastline? Greedy bastards. I mean, they've already got ocean on three sides (not to mention Disney-World)... what do they want with Alabama's only real shot at beach-front property? Surely Alabama could benefit from the tax revenues that come out of Pensacola and the entire Fort Walton Beach/Destin resort area? Kind of sad really. When I complete my world domination, I'll have to fix that...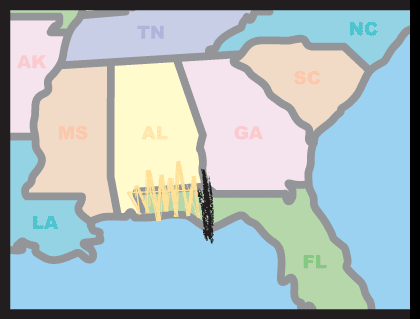 Toob: What in the heck is up with Veronica Mars?!? As the show played out last night it was just one shocking revelation after another... The Russian Mafia? Logan has a sister played by Alyson "Willow" Hannigan? Veronica finds her mother? Duncan and Meg? Veronica and Deputy Leo? And the most shocking possibility: VERONICA AND LOGAN?!? And now it looks like it's on hiatus for several weeks, which is a huge bummer. Such an amazing show. And speaking of amazing... Betty White is killer on Boston Legal lately. They keep giving her a little more to do, and the latest "born again" angle to her maliciously wicked Catherine Piper character is icing on the cake.
AppleTiVo: The rumor mill is running overtime that Apple is wanting to acquire TiVo, with TiVo's stock price jumping 17% as a result. That would rule the earth, because finally TiVo would have the proper financing, technology, and drive to innovate itself out of the horrible mess they've gotten themselves into. My only hope is that if something like this were to ever actually happen, Apple would 1) release TiVo files as protected QuickTime format rather than the stupid proprietary format their using now, and 2) give us an "iPod Video" to play them on. Given their success with audio in the iTunes/iPod arena, it seems unthinkable that Apple wouldn't want to get in on video too. Absorbing TiVo would be a good start, and give us something cool as an alternative to "Windows Media Center" crap. Next would be an iVideo store where we could buy movies and TV shows. I am giddy in anticipation. Yes, giddy as a schoolgirl.
iPod: Speaking of iPod... Apple updated it's lineup today. iPod Minis have been given brighter colors, more memory, longer battery life, and a cheaper price. iPod Photo was reconfigured in two much less expensive models. The original iPod looks to be on the way out, since there is only one model available now... I can only guess this means all iPods will eventually have color screens and "photo" capabilities.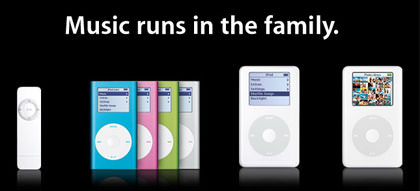 The exciting bit is that Apple is also releasing an iPod Photo "Camera Connection Cable" in March which will allow you to transfer photos from your digital camera directly to the iPod. That's so compelling that I may actually have to think about buying a new iPod next month... not for music (for which I am much happier using my iPod Shuffle) but for the storage and photo backup features while traveling.
Switch: Speaking of Apple... on the way home from Seattle yesterday, I stopped at the SouthCenter Mall to see the new "Apple Mini Store" that they dropped in. It's really sweet and, like every other Apple store, joyfully packed with potential Windows switchers. While I was waiting in line to ask about AppleCare repairs on my PowerBook, I saw two Mac Minis, a PowerBook, and a few iPods sold in just thirty minutes. They could have sold at least a half-dozen iPod Shuffles in that time as well if they had any in stock (the phone was ringing off the hook with people wanting them). Every time Apple opens a new store, it's like printing money. Because once people get a taste at just how amazing a Mac is compared to the Windows shit they've been using... they're going to buy. The guy who bought the PowerBook was a musician who stopped by to "check out the Mac" and ended up making a purchase after playing around with Garage Band for just fifteen minutes. He just kept saying "this is so cool" and "I can't believe it" over and over and over again. I thought he was going to pass out when he asked "how much extra does it cost for the Garage Band software?" and was told it was included free with the computer. "It's really FREE? How can they do that?!?" Well, it got you to buy one of their computers, so that's how. I just hope he didn't get into an accident rushing home to start playing with his new Mac.
Yargh. Whatever am I going to do without internet tonight? Just my luck that this is when some Trackback spammer is going to slam me... it always happens when there's nothing I can do about it.