This afternoon I had to take a run into the "big city" of Wenatchee (population 28,000) to pick up my dry cleaning. For some reason I wanted to be all clean and relatively wrinkle-free for my trip to Europe, which is ironic considering I won't arrive either clean OR wrinkle-free after spending 14 hours in a plane. But anyway, twenty minutes later and there I was at Hays Cleaners with my expensive garments in-hand. Since it was around lunch-time, I decided to squander a small fortune and grab a sandwich at Quiznos (delicious!).
After consuming my toasty sub, there was nothing else to do but head home. On the way out of town, I noticed that the car ahead of me had a bumper sticker that said "Alaska Girls Kick Ass" which raised all kinds of questions. Kick ass at what? Kick who's ass? Do all Alaska girls kick ass, or was it only the Alaska girls in the car? All I can say is that it must be really tough to be a guy in Alaska with the girls kicking all that ass. Ah well, so long as it's not my ass that's getting kicked, I guess it's all good.

But anyway, all that pondering made me hungry for dessert. I needed ice cream. I was going to pull into McDonalds for a McFlurry with McOreo McCookies, but then I remembered that Jeff from Geekable wanted to know if any of the Wendy's restaurants had salad bars anymore, so I decided to do a drive-by and take a look (since I had never been there before and didn't know). The menu was crammed full of "Biggie this" and "Biggie that" but I couldn't find ice cream anywhere...
"Welcome to Wendy's may I take your order?" the girl in the speaker box chirped. "Err yes, I'd like an ice cream please" I replied. Then, in a tone that I can only describe as utter contempt and loathing I hear: "Sir, this is Wendy's, we do not have 'ice cream' at Wendy's." Much embarrassed, I forged ahead... "Ah, I'll have a chocolate shake then." And that's when things got complicated.
In a condescending tone that is usually reserved for uptight English butlers on television shows like The Nanny and movies like Arthur, she responds: Wendy's does not serve 'shakes.' Might I suggest you order something off our menu like a Frosty?" Confused that a fast-food menu could possibly be this complicated, I reply: "I don't know what a 'Frosty' is, what's the 'Frozen Dairy Dessert' on the menu?" And that's when she really lost it.
"THAT IS A FROSTY!!" She says, drier than the Sahara. Progress! I ignore her tone and respond: "I see. Does that come in chocolate?" She has now lost all patience... "Sir, the only flavor IS chocolate!!" - heavy sigh - "It's like a chocolate milkshake, only thicker!!" I think if I would have been standing in front of her, I would have gotten slapped and called a moron, but there you have it: "Okay, I'll take a medium please."
Apparently Wendy's is no mere fast food restaurant, but is instead a fine dining establishment too good for such lower class foods like "milkshakes." All those times driving by and I had no idea. I sure wish I could have been present to witness the Frosty Miracle when the fast-food gods handed down the recipe to Wendy's founder Dave Thomas from on high...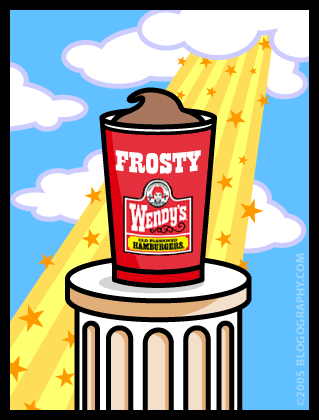 Thinking that my adventure at Wendy's is over, I pull up to pay and collect my frozen treat. After handing it over to me, I notice something is missing... "Uhhh, can I get a straw?". A burst of laughter and then: "You can't suck a Frosty through a straw! That's what the spoon is for!" I was about to make a comment about what really sucks around here, but decided I'd hold my tongue in an attempt to escape with my life (and what's left of my dignity).
And, before I forget, no there isn't a salad bar at my local Wendy's. But the Frosty's are worth a stop... if you dare.
Movie Quotable of the Day:
"Hey, hey! Bubbles, man! Say man, when I was growing up, we want a Jacuzzi we had to fart in the tub!"
Yesterday's Answer:
Commando
(1985) with Arnold Schwarzenegger and Rae Dawn Chong.