For weeks now I have been wanting to cook up a batch of my delicious cheese-n-rice enchiladas (based on my grandmother's original recipe), but it's a 2-hour ordeal and makes one heck of a mess in the kitchen. Unfortunately, I don't have that kind of time. Tonight was no different, but I just didn't care. If I didn't do it tonight, it wouldn't happen anytime soon... certainly not before I leave for Europe. So screw it, everything else in my stressful life can just wait.
But then the terror starts to settle in.
According to my "100 Things," I am most afraid of deep water, heights, and freaky bugs. But there is one things that tops all of those: my Cuisinart food processor. Or, as I prefer to call it, THE WHIRLING BLADES OF CERTAIN DEATH!!. I am mortified at the very thought of having to use that thing.
But when a recipe calls for a two full pounds of grated cheese, you really don't have much choice. To grate it by hand would take weeks. So, with adequate precautions in place, I face my deepest fear...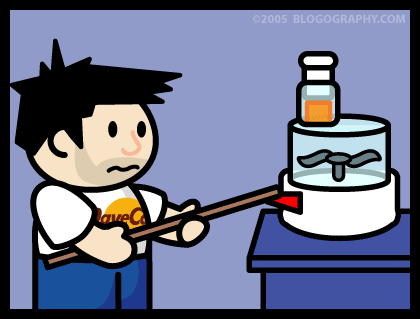 And twenty seconds later, Cuisinart has decimated my brick of cheese into tidy shreds. After unplugging this foul mechanical demon, I'm off to make enchiladas. Two hours after that, a delicious fiesta of exotic delights ensues.
But that's not going to keep me from having nightmares tonight. -sob!-
Movie Quotable of the Day: "We're going to be bunking together the next sixteen weeks, and I just want to know... am I living with a pecker-head, or am I living with someone who can be quasi-normal?"