Today I was planning on going into work, but an impatient truck driver decided to run through a train crossing and get creamed by a freight train, thus closing the street I use to get to the office. Sure I could have taken an alternative route, but I instead decided to take it as a sign that the work gods didn't want me on the job this morning, and stay home today. I'm not a big believer in signs, but sometimes I choose to selectively interpret things in such a way as to benefit me and call it a sign. I'm a bit psychotic that way.
Anyway, I did manage to get some work done at home, but then turned my attention to my extensive videotape collection, or at least the third of it I managed to drag out of my closet...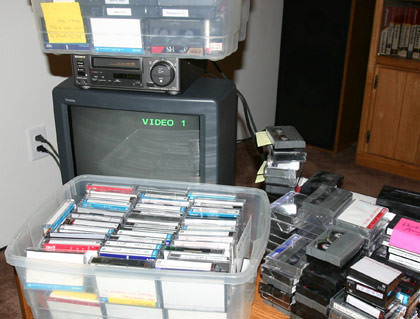 I have hundreds of 8mm tapes filled with television shows I collected throughout the 90's. Some good, some bad, but all preserved in sub-standard quality from a crappy cable connection I was cursed with at the time. Such is my love for television.
But here's the deal: Many of these shows are out on DVD now. In fact, a good half are on DVD and I've got them. Dozens of the remainder are due out on DVD this year, and I'll be getting them as well. Dozens still I have no idea why I taped in the first place (The Single Guy?!?). This means that I've got several shelves stacked with useless tapes I'm never going to use. I guess it's time to throw most of them away, then record what few shows remain on DVD until they're finally released for sale...
Some others I haven't decided on yet: Strange World, an X-Files clone that was actually pretty smart, but arrived late in the "conspiracy" phase of popularity and was doomed. Space Above and Beyond, a passable sci-fi show that was just cheesy enough to be worth watching. Dharma & Greg, mildly entertaining comedy that was pretty good the first season. The American Embassy, interesting Ally McBeal-inspired show about an American girl relocated to London for a job at the American Embassy there. Sam & Max: Freelance Police, nifty cartoon based on the brilliant comic about a homicidal rabbit and his canine pal who fight crime as imitation police officers... how cool is that?!?