It's rather obvious that I am a complete and total Macintosh whore. I worship Steve Jobs, and fall in love with everything that comes out of Apple. If I were very wealthy, I'd buy a dozen of each product they make.
Today was the annual MacWorld show in San Francisco. As usual, Steve Jobs had a killer keynote that gave me entirely new Apple gear to fall in love with.
iPod Shuffle. When I get to work each morning I have a daily routine that involves opening iTunes, selecting a playlist, setting it to shuffle, then hiding iTunes and never looking at it again. I mean, why would I? I've already got a playlist... there's nothing more to do. Now I can do this exact same thing with a $100 skip-free MP3 player that's so tiny and lightweight as to be unnoticeable. For travel, this is a brilliant, brilliant thing...
Yes, yes, I know. There are other companies making similar shit for cheaper, and I've already read some scathing reviews criticizing Apple for not putting a screen on it and, if you feel that way then fine... DON'T BUY IT! But for me, this is exactly the iPod I've been waiting for. Exactly. Now, before a trip, I can just plug the iPod Shuffle directly into my laptop, select a playlist to upload, then forget about it. I've got 12 hours of music with 12 hours of battery life and nothing to think about. Then, for the next trip, I just pick a new playlist and go. It's simple. It's elegant. It's perfect. It's Apple.
Of course I ordered one, even though I don't have the money to be doing that just now. Click to see it at Apple.
Mini Mac. Apple has long been criticized for having expensive products. Personally, I find their stuff grossly underpriced for how amazing it is, but that's just me. Well, now anybody who already has a monitor and keyboard can get a pretty decent Mac for just $500. As if that weren't enough, it's astoundingly small, just 6.5-inches square and 2-inches tall...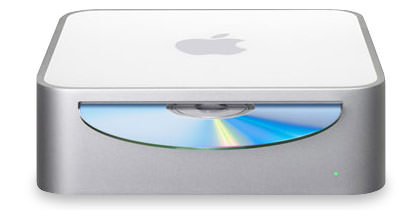 The size factor has me pretty excited. I want one in my car that I can hook up to a small display and my stereo system (load up maps, music and even video and you're good to go!). I want one on top of my TiVo to stream video to my TV and music to my stereo. I want one at work to sit on top of my desktop Mac so I can switch to it while I've got an intensive graphic rendering. I... just... want... one. People are going to do remarkable things with this little box. The fact that it comes with iLife for free is just icing on the cake. A pity I don't have $500 so I could buy one to play with. Click to see it at Apple.
Software. After watching Steve's demo for the new features in the next version of OS X Tiger, I'm dying to possess it. After seeing the enhancements to iLife, I placed my order. After watching Steve demo the new features of his Keynote presentation software in iWorks, I put in a requisition for it. Nobody does software like Apple, and that's just one of a billion reasons I thank the computer gods every day that I don't have to use Microsoft Windows.
Wow. Never a better time to be a Mac addict, and it just keeps getting better.