Wait a second... somebody just told me that TiVo DVRs run on Linux? Yet TiVo isn't releasing a version of their TiVo Desktop software for Linux users? (at least that's what I get from reading their FAQ).
Yikes. Talk about biting the hand that feeds you. That's a nice "f#@% you" to the people who made your product possible!
Anyway, speak of the devil, I finally watched President Bush's inauguration speech off my TiVo and, I must say, I'm a bit disappointed. I want specific details, not vague rhetoric! Here's just some of the things I was expecting him to announce (and, if you don't understand what "sarcasm" is, you may want to skip it)...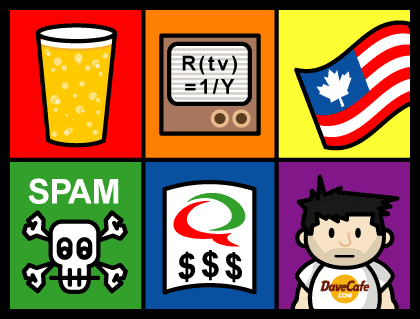 Beer Endowment Fund:
I maintain that it is the right of every American citizen to drink free beer. You would think that the presidential administration would agree, and support widespread drunken behavior. Mostly because drunk people wouldn't mind so much that the economy is in the toilet, Osama bin Laden is still at large, the weapons of mass destruction apparently don't exist, the rest of the world really doesn't like us much and, even after "mission accomplished," our soldiers and countless others are still dying in a very expensive war that's way out of control.
Reality Television Limitation Act:
The horrifying stupidity of 99% of the reality shows plaguing the television landscape is appalling ("Who's Your Daddy?" "The Littlest Groom?" "TRADING SPOUSES?!?"). Normally I don't believe in government intervention in the public sector like this, but something has to be done before what little intelligence left in the average American TV viewer is sucked away. Limiting each network to a single reality show per season would be a good start.
Preemptive Strike Against Canada:
The obvious next logical step in the president's bid for global domination war against terror is to "liberate" Canada. This would have a number of immediate benefits... 1) We're really concerned about protecting our northern borders but, if Canada were annexed into the U.S., our northern border would be somewhere in the Arctic Circle and who wants to go to that kind of trouble? 2) Those whiners who threatened to move to Canada if Dubbuya won the election would have to explore other options. 3) French-Canadians who suddenly find themselves American citizens could practice an entirely new level of self-loathing, because apparently all the French hate us. 4) "The Great State of Manitoba" has a nice ring to it. 5) There'd be no more border crossing delays when heading up to visit strip clubs in Vancouver.
Spammer Death Penalty:
Oh come on. You know you want it.
Quizno Sandwich Subsidy: I love me the Quizno subs! But when it costs $8.31 for a small drink, a regular Veggie Sandwich, and a bag of chips... well, it's not like I can afford to eat there very often. For that kind of money, I could buy EIGHT servings of Cheesy Fiesta Potatoes at Taco Bell! Government subsidizing of Quiznos purchases is not entirely out of line considering they've been propping up the beef industry for decades (which is how a Big Mac costs $3 instead of $30).
National Dave Appreciation Day: My brilliance should be celebrated world-wide but I'd settle for a national holiday as a start. Laugh all you want, but you'd get a day off work, so it's a win-win situation.
Now that's odd. Suddenly I have this overwhelming desire to kick a spammer's ass, then celebrate by watching a stripper on reality-free TV in Canada while eating a Quizno's sub, drinking a beer, and appreciating myself.