AAAAAAAAAAAAAHHHHHHH! I have ranted numerous times about the horror that is Microsoft Internet Explorer (the most recent is here). Simply put, if you are using IE, then you are probably not viewing huge chunks of the internet as it was intended. You are certainly not seeing this blog the way it was intended. For reasons that remain a complete mystery to me, Microsoft simply does not care that their browser renders pages incorrectly. For the longest time, I thought it was my fault... something in my CSS or HTML is bad. But every browser I check... EVERY LAST ONE OF THEM... renders the pages exactly right. They may look a little different, but they are at least laid out correctly. If this is my fault, then why does it work properly on all these other browsers, including Internet Explorer for the Macintosh?!?
So, when I receive a comment at BlogExplosion like this:
"I like the site and words but the format needs work too much scrolling to the left and right to read."
I go absolutely insane...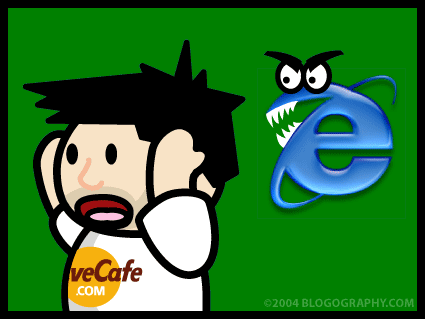 If people don't like my blog and leave a low rating or a comment about hating it BECAUSE OF THE CONTENT, that's fine and I have no problem with it. Everybody is entitled to their opinion. But to have people's experience be tainted with Microsoft's sloppy-ass browser that causes horizontal scrolling WHERE THERE SHOULDN'T BE ANY... well, I go nuts. It's not fair to me. It's not fair to my visitors. It's just not fair. But, since Microsoft has a monopoly on the way the internet is displayed because of their huge dominance with Internet Explorer, it doesn't matter. I'm going to have to be the one to try and figure out what's going wrong. Fair or not, it's my problem.
At least I know what I'll be doing this weekend. If you are using Internet Explorer on a Windows machine and want to see what the site looks like when rendered correctly on the top-five Mac browsers (no horizontal scrolling!), then follow the link below where I've put up thumbnails (or you could always go get a better browser, and see for yourself):
Apple Safari: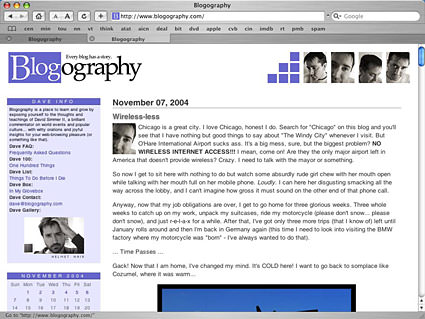 Mozilla Firefox:
Camino:
Opera:
Internet Explorer Mac (believe it or not):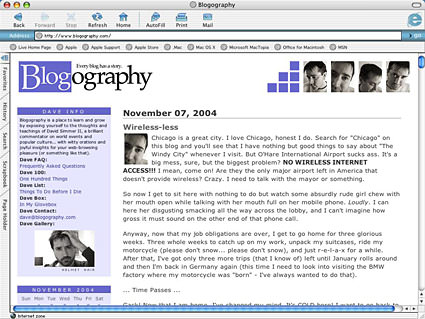 There are many other Mac browsers I could try (like OmniWeb) but since most of them use the Safari Webkit engine, they would assumably look the same as Safari. I don't have a screen capture of IE under Windows, but if somebody wants to send me one so I can show people how the layout renders improperly, that's great. Of course, if anybody knows how I can fix the horizontal-scrolling problem, that's even better!