Happy Halloween! Our port-of-call today is an interesting island that is claimed by two countries and two governments. The north is "Saint Martin" and part of the French West Indies (France), while the south is "Sint Maarten" and part of the Netherland Antilles (The Netherlands). Both countries happily coexist in peace and proudly proclaim themselves of "one island, two countries, one people." Even so, making a telephone call from the French side to the Dutch side is an international call, despite the fact that the island is only 37 quare miles.
Today was yet another "Island Highlights Tour," but at least there was an "almost-submarine-ride" in the middle (albeit a kind of lame one). The countryside is nice (this is a tropical island after all), but it's not quite in the same league as St. Thomas.
Near the end of the tour we stopped at the border between the two countries laying claim to the island. There was a protest of some kind going on that I didn't quite understand. I took a photo of the sign so I could try to figure it out once I got back to the ship, but no such luck...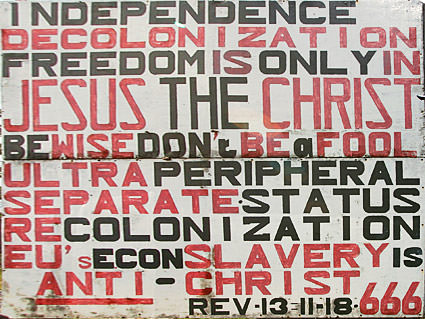 Also in port today was the Royal Caribbean ship Empress of the Seas. As we were leaving the dock, I was wishing that I had a bullhorn so I could talk a little trash to them... something like "EMPRESS OF THE SLEAZE SUCKS ASS!" or perhaps "DAWN PRINCESS RULES THE EARTH! ROYAL CARIBBEAN CAN KISS OUR AFT!!" And, since this is pirate territory, I'd then pull out a cannon, blow a hole in the side of their ship, light it on fire, and then pillage the smoldering remains for treasure.
Pirates kick ass. I think that I want to be a pirate when I grow up.