Today started off as "disappointing," then escalated to "good," then descended to "utter crap," before turning back to "pretty good" again.
Immediately after disembarking in St. Thomas (of the U.S. Virgin Islands), the rain came down like a flood with drops the size of golf balls pelting anybody brave enough to walk the streets unsheltered. But, by the time I reached the Hard Rock Cafe St. Thomas, the sun came out and burned away the clouds leaving blue skies in its wake. Elated due to my good fortune with the change in weather, I took the "Paradise Point" sky-tram ride up to an overlook of the island's only city: Chalotte Amalie...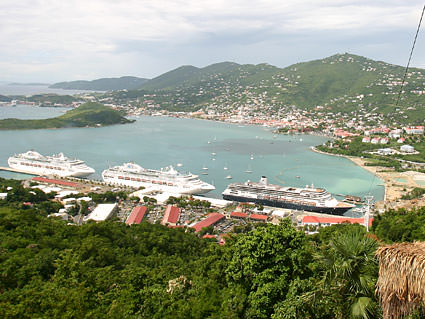 After a leisurely descent down to the waterfront, I ran back to the ship so I could change into my swimsuit and prepare for the highlight of the cruise: HELMET DIVING!! And that's when everything turned to crap. Due to "unsafe conditions," the dive had been canceled. This sucked major ass, because I had been looking forward to it for the past six days.
Trying to make the best of a bad situation, I instead ended up going on an "Island Highlights Tour" that wasn't too bad. After that was over, I still had time to kill, and decided to take a taxi over to Megan Bay Beach where I had a kick-ass milkshake at "Udder Delite" (which the Chicago Tribune claims is a must-experience event). I gotta hand it to the Tribune, they know their stuff. The chocolate shake I had was perfect in every way, and would probably be illegal back home...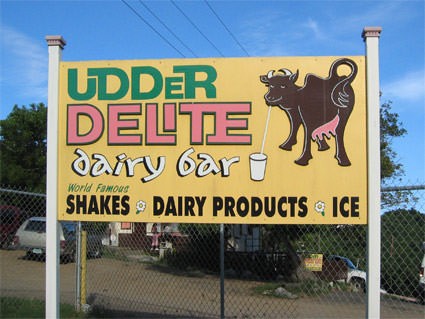 After returning to the ship, the day ended on a high-note as everybody onboard the Dawn Princess got to see our sister-ship (the Sun Princess) depart St. Thomas. It was an amazing site, as the white ship looked beautiful against the setting sun...
And now we're off to the final port-of-call before returning home: St. Maartin.