Last night after a long day of work, we returned to the city and decided to walk around Insadong so I could buy a few souvenirs to take back with me. This famous shopping area of Seoul is kind of a divide between the old and new of the city, and packed with tourists and natives alike. As night began to fall, we wandered towards the "new side," which reminds me a lot of Tokyo when the bright lights and lively signage is ignited...

After shopping, we decided to go see a new movie from China called
Shi mian mai fu
(which translates to
House of Flying Daggers
). I've been dying to see
Hero
but that film had come and gone to Asia over a year ago (even though it is just now making it to the States) and
House of Flying Daggers
looked as though it might be similar in a
Crouching Tiger, Hidden Dragon
kind of way... especially since they both star the astoundingly talented and beautiful Ziyi Zhang...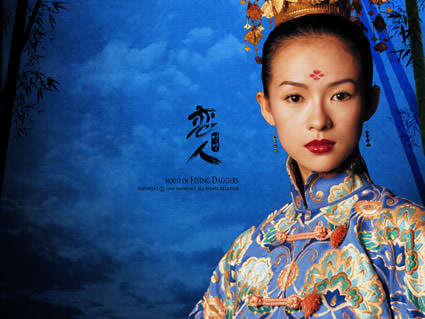 I didn't have much trouble following the story even though the film was in spoken Chinese with Korean subtitles. Unfortunately, I think I would have enjoyed myself more if I didn't understand the story! While the film is beautifully shot, has some kick-ass fight sequences, and features Ziyi Zhang being as captivating as ever... the tale itself was mostly laughable with boring stretches that send you into a coma.
The plot basically involves a young blind girl (Zhang) who works as a dancer, but is suspected by two policeman-friends to have secret ties to a team of revolutionaries known as the "House of Flying Daggers." Once she is captured, the police guys decide that they should rescue her, and a bizarre love story filled with inept surprises, mind-boggling plot twists, and over-the top drama ensues. At one point I had to resist the urge to stand up and scream "would you people just die already!" because there is only so much drama I can take in one sitting. Even so, I'll probably buy it on DVD so I can relive the scenery and fight sequences.
Oh well. All-in-all it was a pretty good way to spend my last night in Korea. After breakfast, I'm packing up and heading home.