My jealousy is in overdrive right now because people at the Venice Film Festival got to see the latest Miyazaki animated masterpiece: Howl's Moving Castle (based on the book by Diana Wynne Jones). As if the fact that they are in freakin' Venice isn't cool enough, they also get to see what is sure to be one of the best films of the year...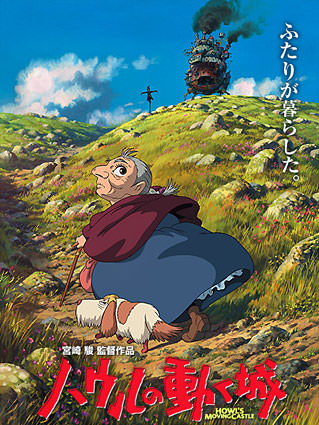 I have blogged several times about my love for all things Miyazaki (he's entry #38 in my "One Hundred Things"), and feel that his stuff is equal to anything Pixar has ever done, and surpasses anything I've seen come out of Disney. Everything he touches is magic, which is why I was devastated when rumors were running around that he would be retiring after his previous piece of genius Spirited Away. Fortunately, his love of children put retirement on hold so he could get this movie made (possibly because it has a strong anti-war message?). Is it too much to hope that he will get a few more movies out before he really retires? I hear he is in poor health and couldn't make it to the festival, so I offer my best wishes for a quick recovery.
The film debuts in Japan on November 20th, so who knows when it will ever reach us here in the States. A preview in Quicktime is available (select "Media" - stunning!). And the official website is up as well (Japanese only).
If only I could afford another trip to Japan this year.