Flying home from Seoul was made interesting by a layover in Anchorage, which seems like kind of a bizarre destination for Korean Air to fly (Alaska?). The 7-1/2 hour flight was made bearable because I had the newly released Batman: The Animated Series Volume One on DVD. What's amazing is that the 28 episodes in this set are superior to any other rendition of Batman I've seen. Better than the crappy Adam West TV show. Better than many of the comic books. Certainly better than any of the movies (yes, even the Tim Burton ones).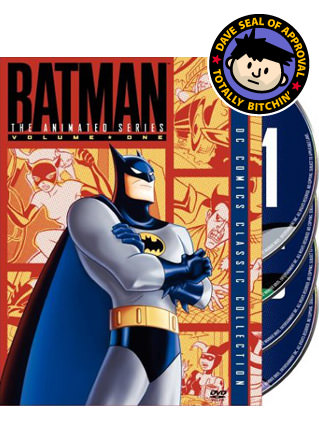 The quality of the stories are top-notch, deftly blending action and drama in a way rarely seen in "American" animation. Even better, the writers are respectful to the source material and aren't afraid to build stories across several episodes (Harvey Dent is introduced five episodes before Two Face is born, for instance). Even one-note characters like "Mr. Freeze" in the comics are fully realized in episodes like the brilliant "Heart of Ice," which strikes a tragic note while not being too heavy-handed.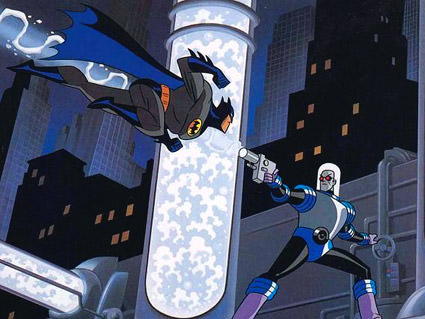 As if it weren't enough that the show is well written, it's also beautiful to look at thanks to the obvious influence of the Max Fleischer Superman cartoons from 1941. The colors are suitably dark and moody, enhancing the stories with a kind of "retro-futuristic" look that suits the Batman mythos perfectly. Characters are well-drawn and animated, with featured players lovingly crafted. I dare say that Poison Ivy is actually sexier in the cartoon than Uma Thurman's scary take on the character in the embarrassing Joel Schumacher directed Batman and Robin movie.
Voice talent is perfectly cast, with Kevin Conroy (Rusty Wallace from the excellent Tour of Duty series) providing an appropriately heroic tone for Batman/Bruce Wayne. Guest stars include Michael Ansara (Mr. Freeze), Adrienne Barbeau (Catwoman), Roddy McDowall (Mad Hatter), Ron Perlman (Clayface), and many others... with the obvious highlight provided by Luke Skywalker himself, Mark Hamill, as The Joker (who knew?).
Because the show was produced using traditional hand-painted cells that are overlaid and photographed with a film camera, there is a lot of dust "pops" and specs running through the picture. It's a shame they couldn't have cleaned up these imperfections in a computer somehow, because it can be distracting at times. Petty bitching aside, this is a purchase no animation aficionado or Batman fan should pass up. I can only hope that a second volume is on the way, along with other Warner Bros. super-hero cartoons like Superman, Batman Beyond and Justice League. Boxed sets are definitely the way to go with animated series.