The fires here have just broken over the ridge of Ollola Canyon. The smoke filling our sky that used to be a light gray is now black. Dozens of people I know are on Level 2 Alert and are prepared to evacuate (and some already have). Ash is falling from the sky. The light that's able to get through our darkened skies is now a lovely pinkish hue, casting painted shadows (strangely reminiscent of a Maui sunset) over all it touches. I can find only one tiny patch of blue sky, and it's closing fast. I guess you could say that the situation here is officially very serious...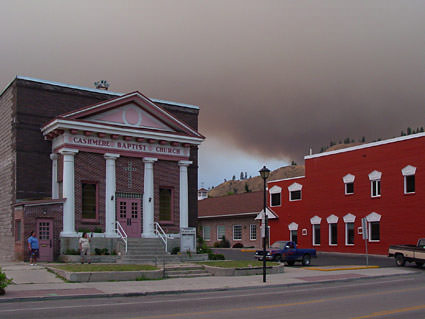 This photo was taken at 2:00 in the afternoon, but it looks closer to 7:00 in the evening. The fire is moving so fast that I can't even guess what things will look like in another hour or two.
Sadly, Mother Nature is not in the mood to help out, as there is no rain in the forecast, and total containment is not projected any time soon (but is currently rated to be around 30%).
UPDATE: Well that was quick. A half-hour later and the light suddenly changed from pink to a ghastly shade of yellow. Playing around with the white balance on my camera, I can kind of capture it, but not really. Looking at it in person, there's an eerie glow to everything that just doesn't come through in photos...
Freaky. It feels very alien, like I'm looking though the world through vanilla-colored glasses or something. The sun is still there, but is a fluorescent orange color, which adds yet another surreal element to life here in Cashmere just now.