It never fails. The universal laws of airline travel demand that once things go wrong, they will continue to go wrong. First I get to Milwaukee a day-and-a-half late because my flight ran into weather problems. Now I am trying to get home, and the odds are not looking so good.
At Milwaukee this morning, three flights in a row were cancelled or delayed due to mechanical difficulties. That sure makes you feel safe when entrusting your life to Northwest Airlines! THREE FLIGHTS... including my own to Minneapolis.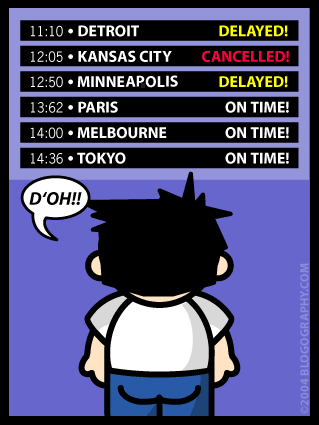 After my flight was delayed indefinitely (hydraulics problems), they re-booked me on a different flight to Minneapolis. The connecting flight to Seattle is very tight (just 15 minutes) but they tell me I should be able to make it. Well, I probably could have except we had a small problem landing...
Apparently, there was another plane on the runway, and the pilot didn't feel like landing on top of him, so we almost landed, then took off again. I sure hope the dumbass traffic control moron was fired for that. Even with the additional 10 minutes required to circle back around the airport, I still had a shot of getting to my Seattle flight on time...
By the time we finally got to the gate, my chances were very slim, but it was still possible... until they couldn't get the jetway to move to the door, wasting yet another precious five minutes!!
What the hell? Not only does Northwest have problems keeping a schedule, but all their planes are breaking down, nearly running into each other on the runway and, assuming you ever get to where you are going, you can't get off the plane because the jetways are busted (this is the third time that's happened)?!? As if the security, tiny seating areas, and overcrowding weren't sucky enough?
So now I am stuck in Minneapolis. I may get out at 5:17... perhaps 7:18... or maybe not at all today. This is not the first time that Northwest Airlines has completely screwed up a trip, and probably won't be the last. Oh well, it's still better than my luck with United.

Next time I'm flying Hooters! That way, when things go wrong it won't suck as bad because at least you will have Hooter Girls to entertain you.