So here I am in Milwaukee, finally. I figured since the Holiday Inn Milwaukee Airport is charging me for the room I never got to use, I might as well stop by, have a shower, catch up with my e-mail, take a nap, and get into some clean clothes before heading off to work. It's a shame I will never be staying at this hotel again, because it's pretty sweet.
All in all, this trip has really sucked so far. And while you might think that being stuck in Detroit without my luggage would be the worst part, you would be wrong. The worst part is being stuck next to a woman on a plane who does not know how to shut up for five hours. They won't let you take a gun on board a plane, so I wonder how else you could get rid of somebody annoying?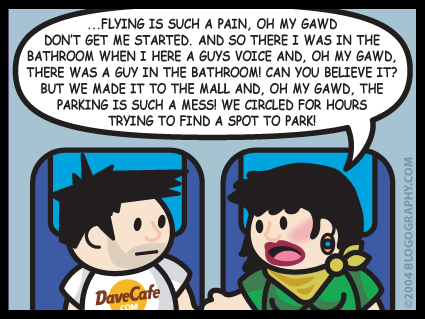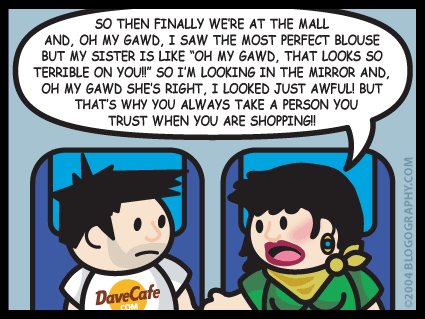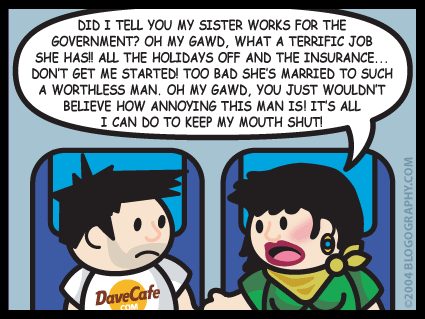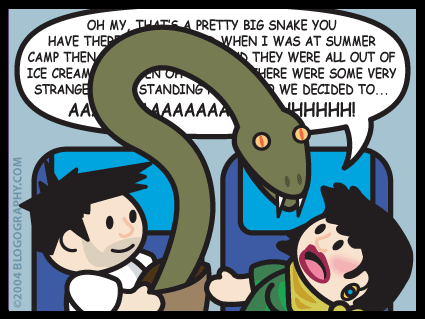 I dunno... do they let you take "pet" anacondas on a plane? I see people bringing their yappy little dogs with them on the plane all the time, so perhaps an anaconda would be okay?
It's not that I am anti-social or anything... really, I do like people. But some people need to understand that it is not necessary to talk continuously for hours on end to complete strangers (especially when said stranger is not allowed to be part of the conversation). This woman was insane. Even the most simple question requiring a yes or no answer would take five to ten minutes for her to reply. A perfect example:
Flight Attendant: Would you like a glass of water?
Noisy Woman: I brought water with me but it's gotten warm. Is that water cold? It is? Well then I would love to have a glass of water. Oh my gawd, I drink SOOOOO much water! Ha ha! I drink so much water that people must think I am part camel! But I love a glass of cool water! Doesn't everybody love a cool glass of water? Most people would rather have soda or coffee or something, but not me! Oh my gawd, it's water water water water for me! So once you've finished getting everybody else a glass, be sure to stop back by me because I'll be wanting more water! Ha ha ha ha haaaaaaa!
Flight Attendant: Uh. Okay.

For the flight back, I will be charging my iPod to maximum capacity, because I am fresh out of anacondas. I wonder if the volume on my iPod will be sufficient to drown out this woman if, oh my gawd, I end up having to sit next to her incredibly obnoxious ass on the way back?