It's about time. I've been waiting twenty-four long years for a comic book movie to approach the greatness that was Superman & Superman II, and finally Sam Raimi delivers in spades with the wonderment that is Spider-Man 2. I was a comic book geek that was beginning to lose hope, but now salvation is at hand...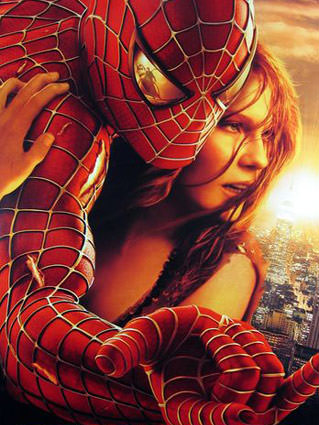 This is not to say that other movies haven't come close... the original Batman was pretty good... Daredevil was better than most people gave it credit for... Hellboy and Blade were serious contenders... even the first Spider-Man flick was a step in the right direction. But it wasn't until Spidey 2 that everything came full circle and you could believe (if just for a moment) that comic books could be real. Not only that, but director Raimi also gives his fans a few inside jokes and is having a bit more fun this time around (Bruce Campbell? Chain-saws? I want another Evil Dead movie now!).
But forget about all that... do you know why this movie works? It's not a big secret: THEY RESPECTED THE SOURCE MATERIAL!! If the huge box-office continues, Spider-Man 2 will be the biggest movie in history, which is why I am all the more puzzled at films like the new Catwoman fiasco that in no way resembles the source material and is sure to be a complete bomb because, HELLO, IT'S NOT CATWOMAN!!
Spider-Man is successful as a fictional character because he's a good fictional character. His history has been refined and built-up for decades... there's no need to f#@% with it, and Raimi understands this. If only we could get him to direct the next X-Men film as well. Hell, if only we could get him to direct all super-hero movies! But, talented as he is, Raimi can't be everywhere at once, which is why I offer Dave's Top Five Tips on How NOT to f#@%-Up a Comic Book Movie in an extended entry...
RULE #1: Use the source material, that's what it's there for you idiot! It might be helpful if you were to pick up a bunch of comic books and actually read them before making a comic book movie. Why bother to make a movie called "Catwoman" that in no way resembles the Catwoman from the comics? In Spidey 2, every character... nay, his entire world... is exactly as you would imagine him from the comics. If you're not going to bother to follow the source material, don't waste our time.
RULE #2: Comic book heroes fight comic book VILLAINS! Nothing pisses me off more than to go see a comic book movie, only to have it ruined by the fact that the heroes are fighting ordinary people. X-Men 2 was a steaming pile of crap because the major villain was just an ordinary guy who fought the X-Men with a bunch of other ordinary guys. WHO GIVES A SHIT?!? I don't want to see the most powerful good mutants on earth fighting the police or the military... I want to see the most powerful good mutants on earth battling the most powerful evil mutants on earth... JUST LIKE THE SOURCE MATERIAL!! These are the frickin' X-Men! Bring on the Hellfire Club! Break out The Brood! Unleash The Sentinels! Instead what did we get? A watered-down Lady Deathstrike battling a watered-down Wolverine and Jean Grey battling, well, water. Spidey 2 gave us one bad-ass Doctor Octopus, and set the stage for other classic villains like The Lizard, Venom, and a new Green Goblin for the next films... if you don't have a cool super-villain to make it all worthwhile, don't waste our time.
RULE #3: Put the money where it belongs! The X-Men movies are so damn lame because they can't afford to put some serious cash into some serious action sequences after paying major stars like Hugh Jackman, Halle Berry, Famke Janssen, Ian McKellan, and Patrick Stewart their million dollar salaries. So instead of some actual comic book action with heroes flying around blowing shit up, we get a lot of expensive stars standing around doing nothing. People will go see Spider-Man again and again because those action sequences are breathtaking to watch. If you're not going to make an exciting comic book film with plenty of comic book action, don't waste our time.
RULE #4: The details get noticed, so get them right! Nothing makes a comic book fan more freaked out than messing up the little details that make a comic book hero a comic book hero. All too often, directors get hung up on stupid shit that has nothing to do with the actual task at hand. In the non-Burton Batman movies, director Joel Schumacher heaped on stupid-ass details like nipples on the bat-suit that nobody except him gave a shit about. In the totally opposite direction, director Sam Raimi lovingly added little touches (like a note-perfect J. Jonah Jameson!) that makes the entire movie a comic-lover's dream. If you're not going to put the effort into getting the details right, don't waste our time.
RULE #5: Good comic book characters are never one-dimensional. Entirely too often directors confuse angst and drama with characterization. The Incredible Hulk movie not only ruined comic book continuity entirely, they kept heaping on all this doe-eyed emotional crap that did nothing to make you care for anyone because it was drama for the sake of being drama instead of adding dimension to the characters. In Spidey 2, Peter Parker is tortured and unhappy... not just to garner sympathy or give you a false pretense to relate to him, but because real effort is put into making these sad events define the man behind the mask. If you are not going to bother fleshing out the whole character, don't waste our time.
There are other things, of course, but those are the top five. Is it too much to hope for that the enormous success of Spider-Man will get movie producers and directors to look at how doing things right will bring you more success than "getting creative" and doing stupid crap that nobody wants to watch? I don't know. Rumor has it that in the next Superman movie Lex Luthor is going to come from Krypton and have super-powers just like Supes... and Krypton doesn't even blow up in the first place. Hopefully it's not true. Hopefully somebody with a lick of sense in their head will read some comics and figure out that Superman is popular for a reason and doesn't need to be "re-imagined."
Hopefully.