How have you decorated the walls of your living space (photos, posters, works of art, etc.)? Most walls in my apartment (and office at work) have prints by Robert Lyn Nelson on them. For quite a while during/after college, I was making annual vacations to Maui with my friends, and purchased a new Nelson print each trip. I think I have about seven of them scattered around. Other than that, I have a print of "The Flower Bearer" by Diego Rivera, which is one of my favorite paintings. In my bedroom I have movie posters from Pulp Fiction, Strange Days, and Field of Dreams.
How have you decorated your body, both intentionally (piercings, tattoos, etc.) and unintentionally (wounds, scars, etc.)? I had my ear pierced for many years, but finally removed it a while back for a wedding I was in. I don't have any tattoos, but have wanted one for a long time... so one day that will happen. I have a few assorted scars from my adventures, including one on my left thumb (where I attempted to saw it off, accidentally).
How have you decorated your computer's "desktop"? Post a snapshot if you want. I have my desktop display a random travel photo that recycles every hour or so. Of course, with all the Konfabulator gadgets I've got cluttering my desktop, you sometimes can't even see the photo, but it's under there somewhere! Oooh. Right now it's a shot of the most excellent Hard Rock Hotel and Beach Club from Bali...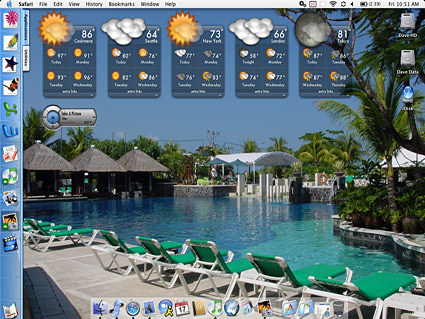 FQ PROJECT: Decorate your blog today! Create some art with an online Etch-a-Sketch (like the one here) and post a snapshot of your efforts (or, if you're not an Etch-a-Sketch fan, draw us a picture using whatever you want). Wow. This was a lot tougher than I thought. I spent quite a lot of time getting the hang of the controls before I managed to squeeze out this instant masterpiece:
Whoa. I never thought it was possible for my beautiful motorcycle to look that bad.