Lovely: I'm going to start saying "lovely" a lot so that I might fit in with the English natives a bit better. This general-purpose word is used for just about any occasion, and I've heard it in the oddest of places. Everything is lovely. Get a new job? That's lovely! Spill your tea? That's lovely (in a sarcastic kind of way). Aliens invade Trafalgar Square? Lovely! I would not be at all surprised to overhear a conversations like this:
Woman: Excuse me sir, do you realize that your head is on fire?
Man: Lovely. I'll just nip over to that fountain and douse it out. Cheers.
Woman: Cheers then.
Cheers: The one word that should never be adopted by visiting American tourists is yet another general purpose word: "cheers," which can mean everything from "thanks" to "excuse me" to "good bye." This morning as I was having breakfast, I overheard some (probably) Americans trying their best to fit in by injecting "chee-erz" in their conversation. They sounded like complete asses because there is no "ee" or "r" in the English "cheers." I think you need a British accent to pull this off, because anything else just sounds silly.
Trippin': For my flight over to Dublin this morning, I took a shockingly cheap RyanAir flight out of Luton Airport (which my friend Perry informs me is pronounced "Looton" and not "Lutton" as one would expect). It's amazing how all of Europe is so easily accessible at such reasonable prices... fares are advertised as low as .99 Euros ($1.20) excluding taxes and fees, which bring the total up to around 17 Euros ($20) each way. Can you imagine flying from Seattle to L.A. for $20? Heck, can you imagine flying ANYWHERE within the States for so little?
Whiskey: I started my day walking down the shopping district of Grafton Street, continuing on along the River Liffey until I got to the "Old Jameson Distillery" which provides an in-depth and informative tour. These people take Irish Whiskey very, very seriously.
Whiffey: Speaking of the River Liffey, we're at low tide and it smells like a sewer. I'd imagine it can best be described much like somebody who ate curries and lager all night, then shat on your carpet the next morning before your dog came along and vomited on top of it. Not the most pleasant scent to remember from your Dublin visit...
Guiness: My second alcohol-related activity of the day was a visit to the Guiness factory & storehouse. The self-guided tour was pricey (13.50 Euro with a free pint at the end!) but interesting. Is there a bar in all of Ireland that doesn't serve Guiness?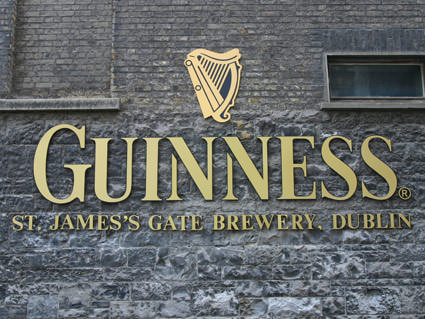 Brogue: I need to start speaking with an Irish accent, because everybody here sounds cool. I'll bet I'd be twice as interesting a person with an Irish brogue.