I woke up today in the mood to do absolutely nothing. If it weren't for the fact that I had to get up and take my laundry down to the concierge, I probably would have stayed in bed all day. I suppose that I could have just come right back up to my room and watched television, but then guilt started to settle in. Here I am in Dublin, where I'm sure many people would love to visit, and I would just be wasting the opportunity.
My morning started with the best shower I've ever had. Seriously. Apparently Dublin has no water shortage problems, nor do they have a concept of what a "water flow restriction device" is. The water pressure was so great that I nearly buckled under it. They should post a sign warning that small children and pregnant women should not use the shower. I think my skull has been dented, that's how fabulous it was...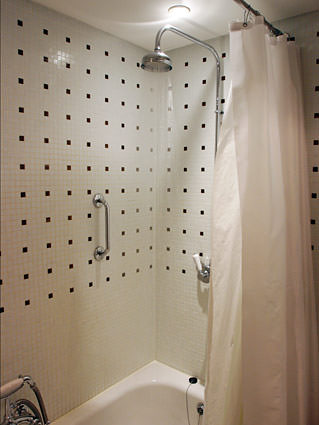 Then I had to work for three hours. Working while on vacation sucks ass.
After lunch, I decided to wander up O'Connell Street, which I never bothered to do on my previous visit. It was then that I saw the Dublin Spire. Other than being really tall, I just don't get it. I mean, come on... "Look! It's a great big pole!" is about the limits as to what can be said about it. Apparently, it was the winning entry in an architectural contest. If this was the winner, I am very curious as to what the losers must have been like...
On my way back to Grafton Street for some non-shopping, I passed by Trinity College, home to the "Book of Kells." All I knew about it was that it was a very old book that monks had drawn on dead cow hides a long time ago. Out of curiosity and boredom, I decided to stop in and take a look. I nearly took a pass when I saw that it was 7.50 Euros ($9) to get in, but oh well.
Wow...
Absolutely stunning. 61.20 Euros ($77) later, I had purchased a book, lots of postcards, and a CD-Rom about the Book of Kells because it was so amazing. The CD-Rom is particularly good, and packed with loads of cool material (including the entire contents of the manuscript). You should go order a copy right now and, if you're ever in Dublin, seeing it in person is a must.