A last minute trip to Beaverton, Oregon where the weather isn't nearly as nice as back home. I finished my work here way early but, due to the holiday weekend, can't get a flight back for 6 hours. So here I sit on standby. Beaverton is just outside of Portland, and is considered the "technical corridor" of the state. It's also home to Nike, though I don't think they actually make anything here in the USA anymore, so it must just be corporate offices or something?
It's a sad story how companies like Nike can spend millions on advertising and endorsements, yet won't spend a dime to manufacture here so local people can have jobs. It's a pity too, because I love my Nike boots, and have owned the same pair for nearly a decade. It's probably about time I get something new, but this time perhaps I'll look at a company like Chippewa or Schnee.
Sigh. According to MapQuest, I could drive home in just 5 hours if I had a car...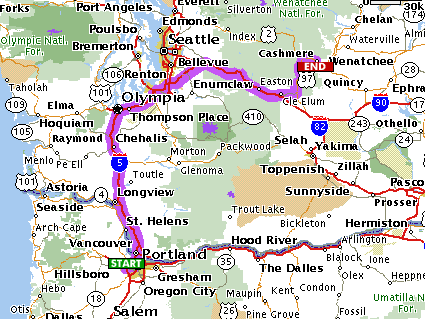 I think I want a donut.
UPDATE: I managed to get on an earlier flight out of Portland after all because I paid full-price for my ticket! Security at PDX is pretty stupid though, and nearly caused me to miss my flight. The line almost crosses the entire airport, which is ludicrous considering only half the inspection lanes were opened. Any time it takes over 30 minutes to get through security, there is a serious problem that needs to be addressed.