I'm off to the Seattle-side of the state. Since I have to take a bunch of crap with me, I'll be driving my car instead of riding my motorcycle. I hope I remember how.
Before I forget (again)... this is for Jill:
The reason the little photos in my sidebar for "Hard Rock Moment" and "Travel Picto-Gram" change every time you visit is because I wrote a little script to randomly display them. If you "reload" the page a few times, the photo you want to look at should appear again. The image you are referring to is from Glendalough, which is an incredibly beautiful area south of Dublin in Ireland. You're right, one day I should add them to my gallery but, until then, here are a few showing the Celtic crosses you wanted to see...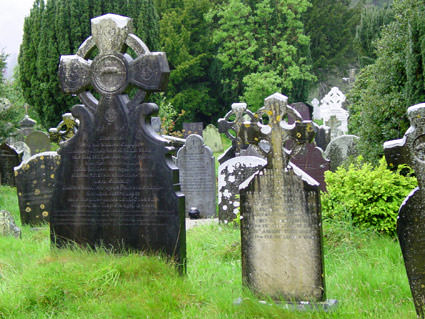 Normally, I don't care for organized tours because I prefer to explore places on my own. But my hotel (the historic Shelbourne Hotel in St. Stephen's Green, Dublin) gave the "Wild Wicklow Motor Coach Tours" their highest recommendation and, after taking it, I would have to agree. If you are in Dublin and want to see a bit of Ireland's amazing countryside, this is the way to do it.