A few people e-mailed me about my previous post where I mentioned I would be preparing for a fast this week. I wasn't joking, this is something I actually do, and have been doing roughly every nine months for the past five years. The process forces your body to burn through kinds of nasty stuff that accumulates from the junk we eat (this is especially true if you eat meat), so I guess you could say it's a health thing.
But mainly I do it because I feel so much better after it's all over. I have more energy, don't feel as sluggish, and (most of all) have an entirely new appreciation for the food I eat. Because a couple of people were curious, I will post my fasting regime below. But, before I do, the necessary legal disclaimer:
I am not a doctor. I am not a nutritionist. I have no medical training. I certainly do not recommend anybody make radical changes in their diet (even temporary ones, like fasting) without consulting their doctor first. This information is posted for entertainment only, and should not be constituted as medical advice.
That being said, I can say that I have been fine-tuning this process for several years and it works wonders for me. When I first started, I could never stay on a fast for more than a day or two... eventually, through trial and error, I found I had much better success if I "ramped up" and "ramped down" from the fasting period. It works kind of like this: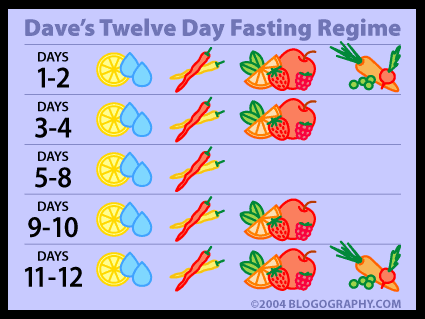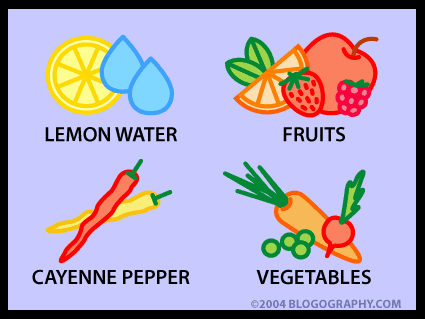 Lemon Water: The juice of half a lemon mixed with water (warm is best) four times a day... it is important to stay hydrated, so drinking plenty of plain water as often as you can throughout the day is highly recommended. Cayenne Pepper: I add a tincture to my warm lemon water each morning, then take the cayenne in pill-form at "lunch" and "dinner." The cayenne stimulates your body to eliminate toxins that have built up (or so I am told). Fruits: Raw and organic is best (no sense adding toxins back into your system that you are trying to eliminate!). Vegetables: Ditto on the raw and organic. If I am feeling a bit weak coming off the fast, I sometimes add brown rice to my diet on days 11 & 12 in the mornings.
NOTE: When I first started, I was only fasting for 2 days in the middle... I then worked my way up to 3 and then 4 days. I've gone as long as 6 days, but didn't find any additional benefits from it, so eventually settled on 4 days.
And that's it. It's really not as bad as it sounds... sure on day 6 you are pretty hungry, but days 7 and 8 are not so bad as your body adjusts and starts going into ketosis. I can honestly say that the first piece of fruit you eat on day 10 will be the best tasting thing you've ever eaten in your life! I usually start easy (no skins and half-servings) and try to make it a real treat... like mango or something exotic like that.
Oh, one more thing... I found that it is much easier to eliminate certain "bad foods" you are addicted to after a fast. You simply don't eat/drink them anymore when you begin eating again..
So, if I am a bit cranky in my posts this week and the next, it's only because I can't have candy and ice cream! I'll be back to "normal" (well, normal for me anyways) on the 18th.