Windows users are forever asking me why it is that I am such a Macintosh fanatic. The answer is: "because Apple makes it so easy to love everything they do." Of course, a lot of the cool stuff that Apple has been doing lately has directly benefitted Windows sufferers, so I guess even non-Mac users are loving Apple now-a-days. A perfect example is their new "Airport Express" wireless device that was just released today...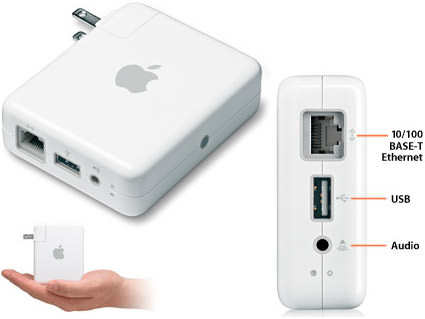 This is phenomenal. I have been dreaming of something just like ever since Apple ignited the wireless revolution (well ahead of Windows machines, which are only just now getting standard wireless connectivity with that Centrino crap), and now Apple delivers.
Whenever I travel, I try to find hotels that have wireless... but, more often than not, they don't. Now it doesn't matter. I take an Airport Express with me, plug the hotel's ethernet cable into it, and I've got wireless. When I work at a studio that doesn't have wireless, I can have it there too. Going to a meeting room where they don't have wireless, doesn't matter... I'll just bring it with me. This is amazingly cool. No more stringing ethernet cables everywhere just so I can access the internet when I'm away from the office or my apartment.
And, even though I would have been thrilled to have the wireless stuff all by itself at an amazing $129, Apple didn't stop there (they never do). They also included a USB port and an audio port. Now I can stream my entire iTunes library to my stereo and give any USB printer a wireless connection... instantly... whenever I need it.
I'll take two please.
Why am I a Macintosh fanatic? The better question is "why isn't everybody?" That way you don't have to wait a year or two for Microsoft to "create" an inferior copy... you can have the superior original now (well, in mid-July actually). Of course, the unit is said to be "Windows compatible," so I suppose if you are intent on using a crappy OS and still want to have Airport Express, you still can (if you can keep Windows from getting a virus or from crashing long enough to do anything with it in the first place).
Oh look... just one day without candy and ice cream and I'm already a whiny little bitch! Go me.