I'm back to Seattle for the day. It's kind of amazing how beautiful it is here today... perfectly blue, cloudless skies. Even better, I got to play with my dream lens (the Canon 16mm-35mm ultra-wide zoom) for my camera and now I want one more than ever. This shot is at about 22, so I could go even wider if I wanted...

I tried to post a photo of this totem lady last time, but couldn't get far enough away to fit her all in. With the wide-angle lens, it's a piece of cake...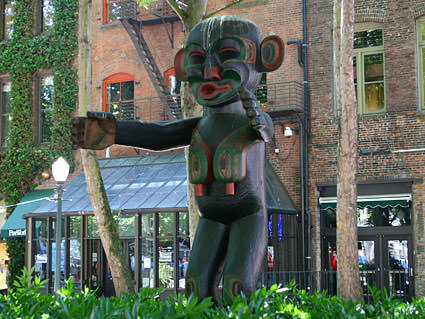 On the way home, I didn't have to drive, so I goofed around with my new 50mm lens and found that it tears just beautifully when you have the lens set slow while traveling at high speed...
Looks kind of like a Monet doesn't it?