I like to take IQ tests because (believe it or not) I seem to be good at them. The problem is that everybody has a different way of measuring IQ, so any results you might get are entirely subjective. When I was in college, I took an official Mensa test and ended up with an IQ of 140-something (which was good enough to join, since you only need a 130 or better). That was sweet validation for the many people who refer to me as a "smart ass" because I had physical evidence that my ass was indeed smarter than many people on the planet (the average IQ is said to be 100).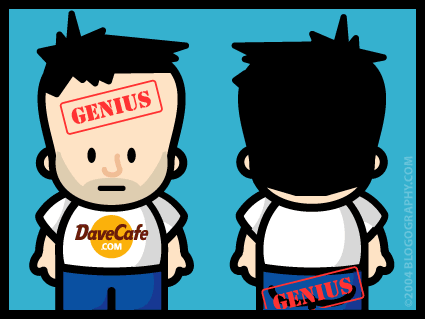 There are numerous IQ societies around the globe, some of which are more demanding than others... like the Mega Society, which requires a one-in-a-million score of 175 to join. While nowhere near that level, I do manage to score between 130 and 140 on the IQ tests I take which means I have half the qualifications toward being an evil genius (I really do need to work on that "evil" part).
The holy grail of intelligence societies is the"world's most exclusive" -- the Giga Society, which makes Mensa members seem like drooling idiots because they require a one-in-a-billion IQ of 196 or higher to join. From their crappy web site (which looks as though it was designed by somebody with an IQ of 2), it would seem that they have only 6 members world-wide.
And why, you might ask, am I rambling on about IQ societies? Simple. I want to start my own intelligence society. Intrigued? Then you too may be qualified to join... all you need to do is pass the DaveQ test: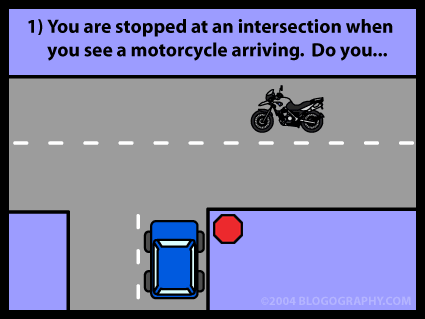 A) Pull out in front of the motorcycle because you drive an SUV and are much bigger that they are.
B) Pull out in front of the motorcycle and then say: "What motorcycle? I was talking on my mobile phone as I turned into the intersection and didn't see any motorcycle!"
C) Respect the right of motorcyclists to exist, and kindly wait until they clear the intersection before pulling out.
In case you are wondering, the correct answer is "C." Did you pass? If you did, CONGRATULATIONS! Your stunning intelligence gives you a DaveQ of 1000! Take pride in the fact that you are smarter than 90% of motorists out there, and know that motorcyclists around the globe are grateful to have people like you sharing the road.


And now, to those of you who didn't pass... STAY OFF THE f#@%ING ROADS DUMBASS!! After two weeks of travel and endless work with no time to ride my motorcycle, I finally get a chance yesterday and experienced BOTH option "A" (moron pulls in front of me just because he won't be damaged in his gigantic gas-guzzling SUV if there's an accident) and option "B" (oblivious mobile-phone using bitch nearly broadsides me because she's too stupid to be driving and talking at the same time).
Life can really suck because PEOPLE ARE STUPID! Who am I to judge? Just a smart-ass with a genius-level IQ.