Today is the 25th anniversary of McDonald's "Happy Meal" which, for those of your fortunate enough to live in a McDonald's-Free zone, is a meal for kids that includes a hamburger, fries, cookies, a drink, and a toy surprise. I'm sure I ate a few Happy Meals when I was a kid, but don't much remember them growing up. I became a vegetarian in 1987, so the only time I run into a Happy Meal now-a-days is when I am with kids who are eating them or buying them for somebody else who is collecting the toys.
The current blog meme running around the internet is "What's your favorite Happy Meal Toy," which is an easy one for me. About 5 years ago I was at a photo shoot in Seattle when I got a call from my mother who was trying to collect all of the "Mini Beanie Baby" toys that were in the meals at the time. She wanted a "Strut the Rooster" toy, and the local branch had sold out. Since there was a McDonalds around the corner from my hotel, I told her I'd give it a shot (the irony being that you could get a cute chicken toy along with your dead chicken McNuggets!).
Whenever I had done this for somebody in the past, I always just pay for the meal and tell them to keep the food. But this time was a little different...
On my way to the restaurant, I came across a homeless gentleman who asked if I could spare some change so he could get something to eat. I explained that I am unable to hand out money (I cannot be party to them using it to harm themselves or other people), but I would be happy to buy him something from McDonalds if he cared to wait for it. He looked pretty miserable, so along with the Happy Meal, I went ahead and bought him a cup of coffee, a few bottles of orange juice, and an extra hamburger. I then made my way back to the guy, handed him the food, and turned to leave after he had said his thanks.
That's when he stopped me and asked "didn't you get anything for yourself to eat?" I explained that no, I had already eaten, I just needed to go to McDonalds so I could get the toy for my mom. This puzzled him greatly, and he asked to see it...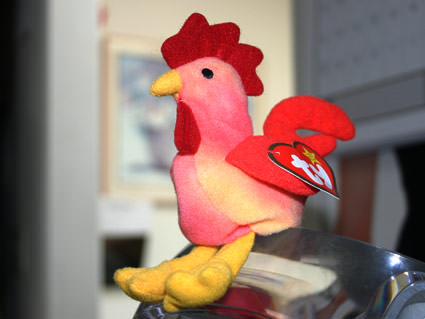 He took one look at "Strut the Rooster," neatly sealed in a plastic bag, and said something that has forever haunted me to this day... "It looks like it costs more money to make the toy than the food." It was a simple observation of such insight and clarity that I was stunned it had never occurred to me before. Probably because I am fortunate enough to have never gone hungry.
When I got home a week later, somebody had already found a "Strut the Rooster" for my mom, and so I kept the one I got. He sits on top of my computer at work as a constant reminder that there are people in the world who go hungry every day, and I should be forever grateful that I am not one of them.
I try to be.