I used to enjoy driving. You could hop in your car and, through the miracle of modern automotive technology, safely and efficiently be whisked off to just about anywhere you wanted to go. I remember how great it was when I got my driver's license... driving is freedom, driving is fun!! But that's not true anymore. Driving now-a-days isn't fun because of the astounding number of stupid, stupid, STUPID people on the road. We have laws that make it illegal to drive because you're under the influence of alcohol, where are the laws that make it illegal to drive because you are a dumbass?
Today I had to run a work-related errand into the "Big City," just 13 miles away. During this short trip, I was almost in FOUR accidents (yes, FOUR!) because people are MORONS.
Moron #1: Coming into the city, there is a cement wall that acts as a lane division between the incoming and outgoing traffic. I was in the left lane, nearest to the wall, when a total f#@%ing moron in a big truck decided to turn into my lane. Had I not slammed on the brakes and hugged the cement wall, he would have destroyed my car (and had I been on my motorcycle, I would probably be dead). Honking my horn had no effect... I don't think he noticed, and probably wouldn't have cared had he done so. Helpful Hint: Take a look into the lane you're turning into to be sure somebody isn't already there, especially if you are driving a big-ass truck that could squash a car. As a public service, I took a picture of this ass-clown so that if you see him on the road you can get the hell out of the way before he kills you...
Moron #2: When I finally made it into the city proper, the lanes split off in two directions... the left lanes go downtown, and the right lanes continue into the city. Well, yet another truck driver who was in the right-most lane decided he wanted to go downtown, and didn't care that he was cutting across three lanes of traffic. Unfortunately, the traffic signal for downtown turned red, leaving the idiot blocking all four lanes of traffic. The person behind me didn't see what was happening, wasn't able to stop, and ended up on the sidewalk (which is better than running into me, but scary just the same). Helpful Hint: if you miss an exit, don't f#@%up everybody else's day by doing something stupid... take the next exit instead! Here is a handy map to explain what happened...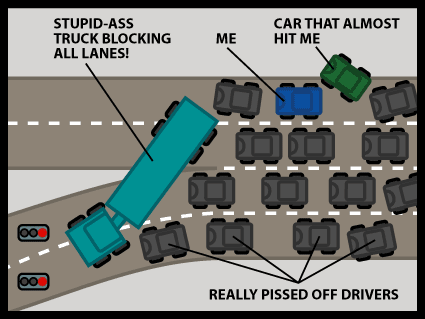 Moron #3: After I completed my errand, I turned around to come back home. As I was heading out of the city, a car intending to turn into traffic overshot her lane and took half of mine as well. Again, I had to slam on the brakes to avoid being nailed. As I drove past this lunatic woman, I saw the reason she didn't make the turn... she was steering with her elbows because she had just bought some food at Wendy's and was trying to unwrap it while holding onto a cup of french fries at the same time. Helpful Hint: your dashboard is not a buffet... if you must eat while driving, take the time to organize your food-stuff BEFORE pulling into traffic so you can have at least one hand on the wheel. Better yet, since you are obviously too stupid to be driving and eating at the same time, WAIT UNTIL YOU GET HOME! I would have taken a photo, but I was too busy trying to keep this idiotic asshole from slamming into me.
Moron #4: When I finally made it out of The Big City, I figured I was safe. WRONG! I am heading down the highway when I see a cardboard box in my lane. I slow down so I can get around it, only to find another box behind it. Once I'm past the boxes, I speed up again. All of a sudden, a huge piece of grey styrofoam flies into my windshield, blinding me temporarily. That's when I notice a flatbed truck up ahead that has of boxes flying off of it. Even worse, when I pull up beside the guy to try and let him know his shit is being scattered all over the highway, he is wearing big-ass headphones and couldn't hear me trying to get his attention. Helpful Hint: strap down any cargo you are hauling so it doesn't end up blowing into cars behind you... also, DRIVING WITH HEADPHONES ON IS ILLEGAL YOU STUPID f#@%!! Ordinarily, I wouldn't think of trying to take a photograph while cruising down the highway at 60 miles per hour, but how else were people going to believe it?? That big open box is where the styrofoam came from that hit me...I think the entire box flew off after I passed him. Notice he's nearly out of the lane as well (yeee-hawwww!)...
I feel lucky to have made it home in one piece But what the hell? Is it just me? Am I unlucky or something?!? Do people not realize that cars and trucks are lethal killing machines when they are not operated properly? Not paying attention, being careless, or driving with distractions can get someone killed. D-E-A-D! Do people really care so little for others that they are willing to risk lives (including their own)... or are they just so stupid that they think an accident won't happen to them no matter how big of an idiot they are? PAY ATTENTION OR TAKE THE BUS YOU f#@%ING MORONS!! LIVES ARE AT STAKE HERE!!
I don't think driving is very much fun anymore.