Weather forecasters have one job... to predict the weather. And yet, more often than not, they get it completely wrong. Here in the States, we have a "three-day weekend" because of the President's Day holiday on Monday. Naturally, the only question on my mind is "will I be able to take my motorcycle out of storage?" In order to answer that question, I need to know what is going to happen with the weather.
When I woke up this morning, the forecast predicted snow all day, and sunshine for the rest of the weekend. But the snow never came. Then the forecast changed to sunshine today, snow tomorrow, and sunshine for the rest. Over the past 8 hours, the forecast has been fluctuating constantly. Now it's looking like this: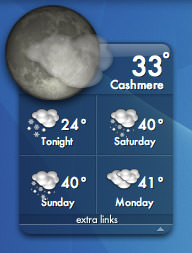 Crap! I can only hope that this is very wrong, because weather like this means me and my motorcycle won't be going anywhere. Why didn't I think to have a career as a weather forecaster? It's the only job I know of where you can be paid good money, get everything all wrong, and yet still be allowed to come back to work again the next day.
Well, apparently there is one other job that allows such gross incompetence: President of the United States.