Well crap! The WB Network has just cancelled one of my favorite television shows: Angel. What a horrible way to start my day! What's really surprising is that this is turning out to be one of the best seasons of the show ever, and the addition of James Marster's Spike to the cast makes each new episode a classic ("feel my wrath you barrel tossing monkey!"). I thought the ratings were doing okay as well, which is why this is a particularly puzzling thing to have happen.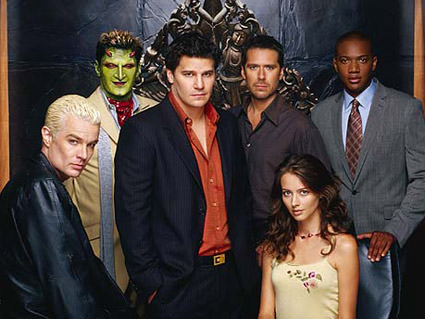 I honestly don't understand how The WB can afford to lose a show with such a devoted following considering that most of their other shows suck ass. It especially doesn't make sense when you consider how much money that they are making off of video and DVD sales for both Angel and Buffy the Vampire Slayer. You'd think that they would want to keep that franchise cash cow going for as long as possible.
Oh well, that's one less thing I have cluttering up my Tivo next season. I suppose that I should be grateful we got the 100+ shows that aired, and hope for occasional TV movies of the "Buffyverse" in the future.