So I'm working away when I get an e-mail from a friend who reminded me of something that made me feel like listening to music by the Pet Shop Boys (no, I don't know why). I own a lot of their stuff, but have some gaping holes in my collection that need filling, so it's off to the iTunes Music Store I go. My first purchase is their album Release, which I never got around to buying (despite having guitar work by Johhny Marr!). So far so good. But then I decide to pick up the Further Listening... albums which feature remixes and additional material to some of their most popular works...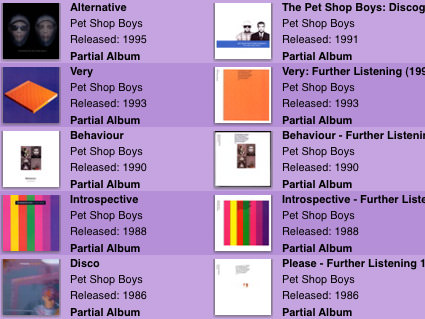 ... and oh crap, we've entered the dreaded PARTIAL ALBUM ZONE.
What the f#@%??
It seems that more and more often when I want to pick up something from iTMS, I can only get parts of it. This is utter crap! I can only guess that some of the songs on these albums are covers of other people's songs or written by somebody who won't hand over the rights to sell the song online. Whatever. I guess I will buy what I can and then try borrow the albums from friends so that I can steal the rest. Do I feel bad about having to steal music? Not in the least. Not even the tiniest bit. Because, obviously, I would gladly purchase the songs online if I were able to. I am not going to purchase half the stuff online, then pay for that exact same material again (assuming I somehow manage to find the CDs available for purchase in the first place, since some of them are out of print).
Yes, I sympathize with artists who are getting a raw deal because music companies are taking most of the profits of online sales. But you sleep in the bed you make, and I'm not going to cry over a contract that somebody else was foolish enough to sign. Musicians need to wake up, drop f#@%king recording companies altogether, take control of their own music, sell their own product directly using iTMS and other online/CD distribution methods, and then keep all the profits for their labors (which they deserve). So what if their sales drop, they would probably make more money in the long run because nobody would be taking the majority of the profits they would be earning. It's only a matter of time before our antiquated recording industry dies off, and if it means I'll be able to purchase entire albums online, I won't be sorry when they are gone.