A year ago today, a good friend from my college days got married (happy anniversary!). Sure I was stuck in a tuxedo all day, but didn't mind too much because it ended up being a really cool ceremony. One of the niftiest things about it was the wedding favors, which were small pine tree seedlings in plastic tubes...
"In the spirit of new beginnings, we would like to give you this seedling. We hope that you will plant it, nurture it, watch it take root and grow, just as we hope we will grow together in our new life."
I really took that request to heart, and went out and spent $50 on a blend of three kinds of potting soil, greenhouse grade gravel, and a ceramic pot to put it all in. Then I had to haul out the Dremel tool to make a drainage plate out of a Tupperware lid and spend an hour getting everything planted. A girl I know said that anything you spend that kind of money on should have a name, and dubbed it "Oscar."
Well, one year later, I'm happy to say that Oscar is still hanging in there...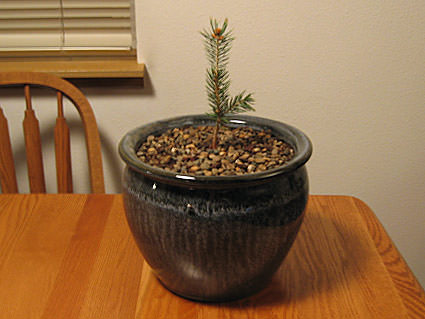 In some ways, there is a lot of pressure to keep Oscar healthy. If he dies, what does that mean for the marriage? I got a little worried because he went dormant through the winter, but now I think he is waking up again because there are tiny little buds popping out all over. I know nothing about trees, so I can only hope that's a good thing. Way to go little buddy! Hmmm... the tips of his needles look yellow. I wonder what that means?