I ran across a proposed bill which would ban all "objectionable" language from radio and television. Now I can't get the song It's Easy Mmmkay (from the South Park movie) out of my head as I try to mentally picture radio shock jocks trying to learn how to stop swearing on the air...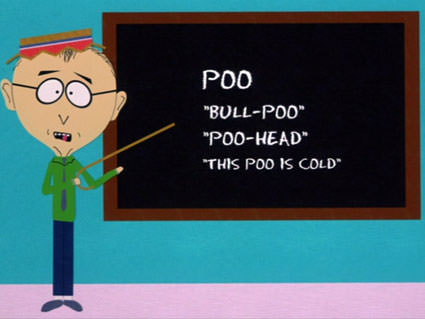 You can do it Its all up to you-mmmmmkay.
With a little plan you can change your life today!
You dont have to spend your life addicted to smack...
Homeless on the streets giving handjobs for crack.
Follow my plan and very soon you will see, its easy mmmkay...
Step 1: Instead of ass say buns, like "kiss my buns" or "you're a buns hole."
Step 2: Instead of shit say poo, as in "bull poo," "poo head," and this "poo is cold."
Step 3: With bitch drop the t because bich is latin for generosity.
Step 4: Dont say f#@% any more because f#@% is the worst word that you can say!
So just use the word "mmmkay!"
Now, out of respect for others, I never swear in mixed company... oh no, I save that kind of language for my friends, family, and this blog. But I have to say that harsh words have lost their shock value to me anymore... through years of constant exposure, words like "f#@%" have no more worse meaning to me than "darn." Yes, it's a shame that today's youth have turned into foul-mouthed little perverts... but what's the use in stopping the swearing on radio and television when kids can hear far worse on the school playground? Mmmkay?