I have no idea how Trey Parker and Matt Stone continue to churn out South Park shows that just keep getting better with each new episode. I've been too busy to watch television for the past few months, and have just been letting everything stack up on my Tivo. Well, the thing is finally getting full, so I've been trying to squeeze in a few shows here and there to make some room. Among those were about 6 episodes of South Park I hadn't seen.
I haven't laughed that hard in a very long time, which was surprising because none of the episodes had my heroes Terrance & Phillip in them.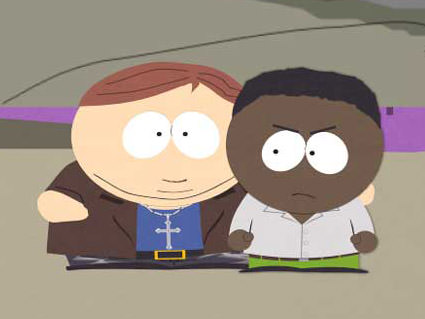 Probably the best episode ever was one called "Christian Rock Hard," where Cartman decides to form a Christian rock band to become rich and famous (since he has no talent, he figures Christian rock is the way to go... it seems to sell no matter how bad it sucks), and Stan, Kyle, and Kenny get arrested for downloading music off the internet. The usual hilarity ensues. If you haven't checked out South Park in a while, it is just as insightful, timely, and damn funny as it's ever been.