Living with my face every day as I do, it is easy for me to overlook just what a throbbing bundle of cuteness I really am. Until, that is, somebody is kind enough to send an e-mail and remind me. Last week I joined a discussion group and needed a photo for my user profile. Vanity being a trait I don't possess (for obvious reasons... or so I thought), I don't have photos of myself laying around. Well, nothing current anyways. Fortunately, I have an iSight camera on my Mac for just such an occasion, and took a few stills of myself.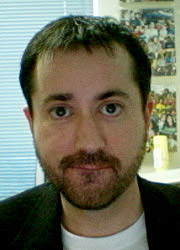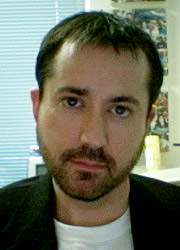 Anxious to get underway, I just cropped one of the stills and uploaded it without really thinking about it. Last night, I happened to glance at my profile and thought that the image I had chosen (left) was dopier than usual (even for me). So, I rummaged through the shots and selected another, more serious one (right) to upload. This morning I get this e-mail from "Katie":
You changed your picture! What did you do that for? You were much cuter in that other one where you were smiling a bit!!! ;)
Now that I take a look at both shots, I have to admit... I am much cuter in that first photo (well, I'm either cuter or more constipated-looking, I can't seem to decide about that). So, naturally, I'm off to upload it again. Sure I only got one e-mail complaining, but heaven only knows how many other women I've devastated because I just don't realize how damn cute I am.