Why is it that so many people feel the need to stick their nose in other people's business? While waiting in Detroit for my flight back from Stockholm the other day, I purchased a few magazines to have something to + ahem + read... namely, Maxim and Maxim Stuff. I sat down and just started reading an interview with the babealicious lawyer from JAG, Catherine Bell, when some hippie woman across from me has to interrupt:
Uptight Moron: That's not a magazine, it's pornography!
Me: Nobody asked you.
Uptight Moron: I think you should take your smut someplace where children aren't present.
Me: NEWSFLASH: ABSOLUTELY NOBODY CARES WHAT YOU THINK... so shut up and stop bothering me.
She then got up and left in disgust, while some people around me started laughing. I thought for sure she'd end up in the seat next to me on my flight, but sometimes you just get lucky and I never saw her again.
Now look, I am not one to pass my morals (or lack thereof) on other people, and all I ask in return is that you give me the same courtesy. If you feel women in bikinis are pornography, then go protest at a beach somewhere... that's freedom of expression and I'm fine with it. But don't go shoving your "thinking" in my face because, unless you are somebody I know or respect, I just don't give a shit.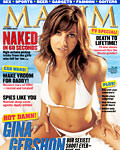 Images above were stolen from the Maxim Magazine and Stuff Magazine web sites. Both magazines are packed with high entertainment value, so I recommend picking up several copies.